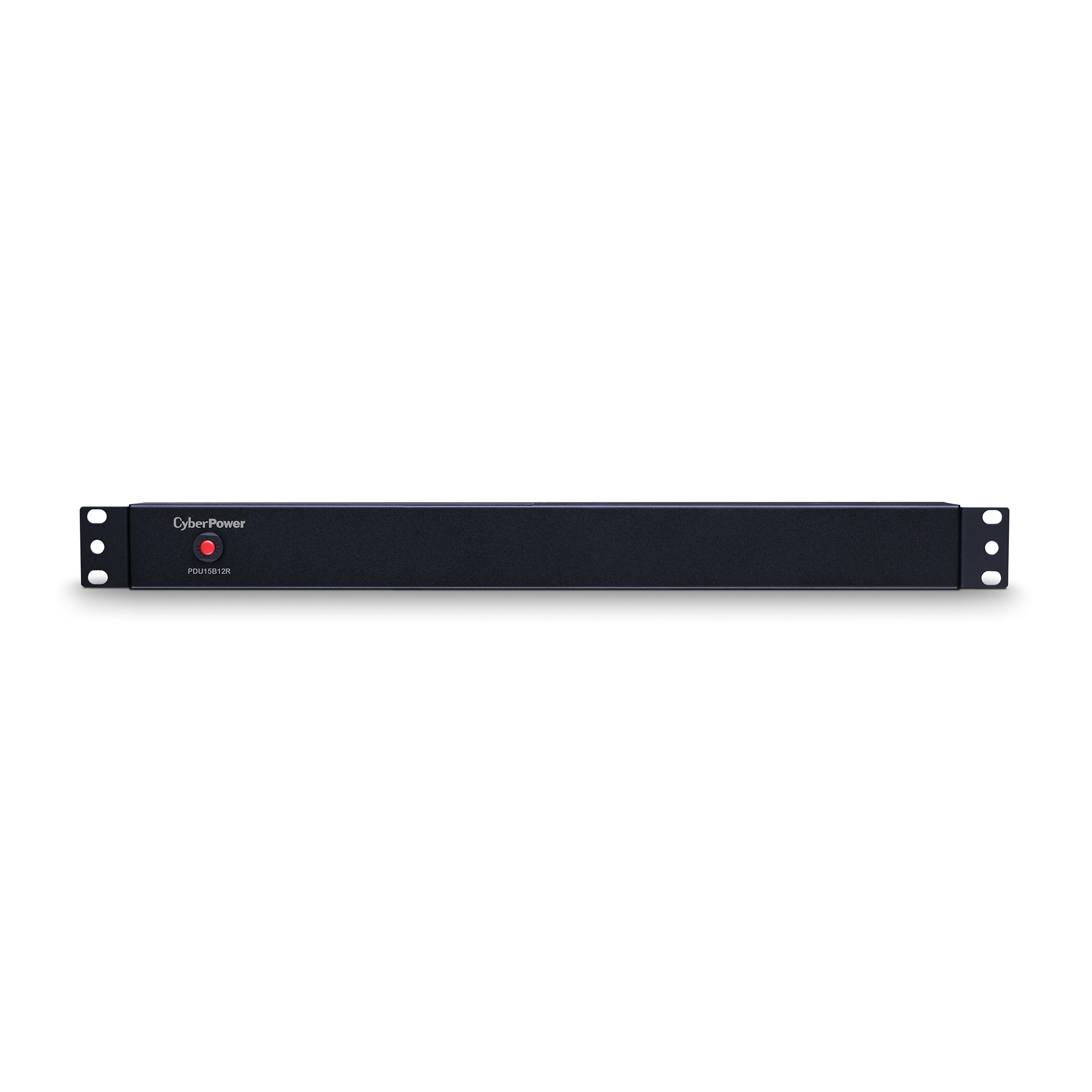 CyberPower PDU15B12R
Basic PDU Series
Phase: Single
Amps: 15A (Derated to 12A)
Volts: 100 – 125 V
Frequency: 50Hz/60Hz
Plug type: NEMA 5-15P
Outlets: 12 NEMA 5-15R
Size: 1U Rackmount
Dimensions (in.): 17.5W x 1.75H x 1.5D
Cord length (ft.): 15
---
Deliver reliable power to electronic equipment, servers, and network/telecom devices
The CyberPower PDU15B12R, a 12-outlet (rear) rackmount basic power distribution unit (PDU), provides 100 – 125 V 15A output. It distributes power to 12 NEMA 5-15R receptacles from a single NEMA 5-15P input with unfiltered electrical pass-through. Designed for datacenters and other electrically demanding applications, the PDU15B12R has rugged, industrial-grade metal housing and a 15-foot AC power cord. It can be mounted either horizontally or vertically, includes a cord retention tray, and is ETL/RoHS certified. A limited lifetime warranty covers defects in materials and workmanship in the product under normal use and conditions.
Power Distribution
Delivers AC power to servers, equipment, and connected devices via a power distribution unit.
Switch-Free Design
Safeguards against accidental power shutdown.
Network-Grade Plugs and Outlets
Highly durable construction ensures the efficient distribution of power in demanding IT or industrial environments to servers, equipment, and connected devices.
Long Input Power Cord
Reaches distant power sources, allowing the PDU to be placed where it's needed.
Cord Retention Tray
Secures power cords, keeping them organized and accessible. Helps cords stay plugged in.
Configurable Mounting Brackets
Allow for installation of the PDU in the following configurations: 0U (vertical, under counter, and wall mount), 1U (horizontal, vertical, under counter, and wall mount), and 2U (horizontal and wall mount).
Durable Metal Housing
Protects internal components and resists damage from impact or abrasions within challenging industrial environments. Also extends the life of the product.
What's In The Box
PDU, Cord Retention Tray, User Manual, Screw Kit, Cord Clip Kit, Horizontal Mounting Brackets, Vertical Mounting Brackets, Product Registration Card.