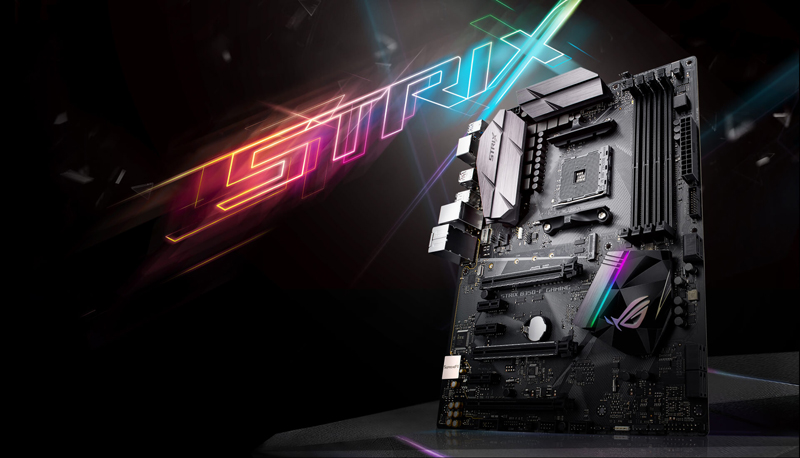 The ASUS ROG STRIX B350-F Gaming motherboard offers a great solution for building your new powerhouse based on the latest AMD Ryzen processors. It also combines advanced ROG innovations, bold aesthetics and incredible audio to deliver unrivaled gaming experience. Join the Republic with the ROG Strix B350-F Gaming, and dominate your game, with epic speed and agility.
Lighting
Aura Lighting Control
Create your own custom LED lighting effects with the intuitive Aura software. Cast a stunning multi-color glow across your build with the powerful RGB LEDs built in the ROG Strix B350-F Gaming, or attach separate RGB strips* using the two onboard 4-pin headers. You can even use both at the same time and enjoy perfect lighting synchronization. Fire up Aura and enjoy the creative freedom of twelve different lighting themes.
* The Aura RGB-strip header supports standard 5050 RGB LED strips with a maximum power rating of 2A (12V). For maximum brightness, strip length should not exceed 2m.
* RGB LED strips are sold separately.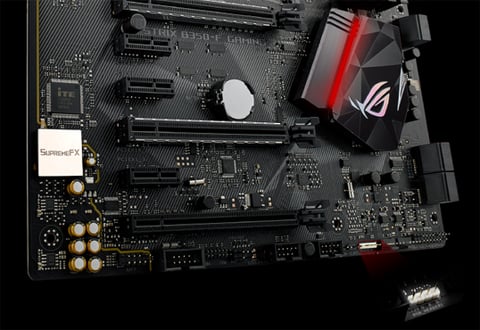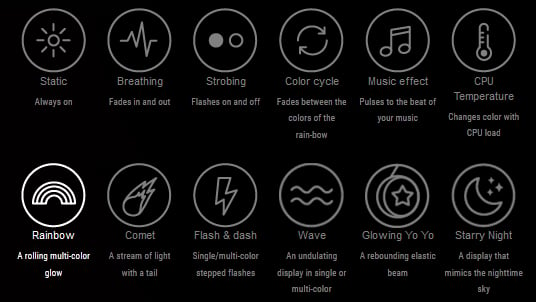 Outshine the Competition
ASUS Aura Sync RGB LED technology makes ROG Strix B350-F Gaming the control hub for your illumination ambitions — so it's easy to synchronize incredible lighting effects between compatible components, including RGB LED strips, graphics cards, keyboards and even mice! Change all LEDs in unison or employ dynamic modes to flow the illumination effects smoothly across all synchronized devices.

AUDIO
SupremeFX
Shielded audio, superior sound
ROG's awesome SupremeFX audio technology has levelled up, delivering an exceptional 113dB signal-to-noise ratio on the line-in connection for best-ever ROG recording quality! A low-dropout regulator is also added for cleaner power delivery to the SupremeFX S1220A codec, plus Texas Instruments RC4580 and OPA1688 op-amps for high gain with low distortion. It all adds up to audio that envelops you as never before!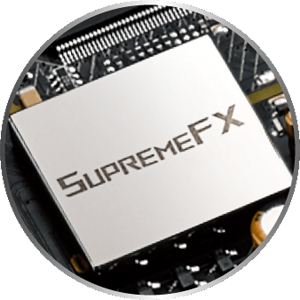 Audio Cover
Effective shielding preserves the integrity of audio signals for the best quality.
Dual Operational Amplifiers
With two op-amps onboard you're able to pump exceptional audio to your favorite cans, with 32-600O-headphone impedance for great flexibility.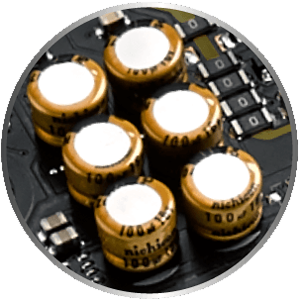 Premium Nichicon Audio Capacitors
Fine-quality Japanese-made components that produce a warmer, natural sound with exceptional clarity and fidelity.
Audio Line Shielding
It blocks electromagnetic interference from the motherboard or add-ons to provide cleaner audio.
Sonic Studio III
ROG Sonic Studio III audio-effects station has an intelligent routing feature made for streaming. The new routing feature ports stream to different outputs, giving you full control over who hears what. With Sonic Studio, you now can share your exciting in-game moments without worrying about frivolous DCMA takedown requests. In addition to that, Sonic Studio III also comes with app-level preferences for instant audio profiles, and improved noise filtering for conversations with total clarity!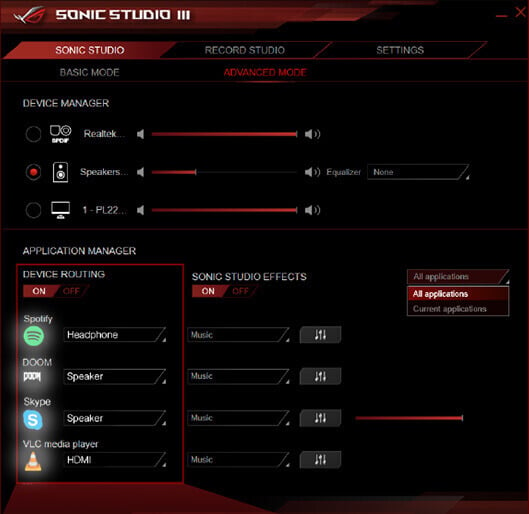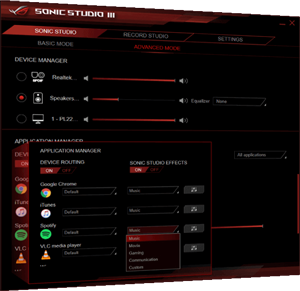 App-Specific Profiles
Apply customized audio settings to different applications, so everything you do is perfectly tuned to the way you want to listen.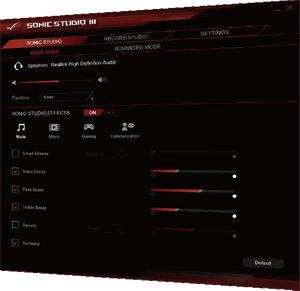 Noise Filter
Automatically detects and eliminates unwanted background noises, ensuring that your communications are loud and clear.
Scan and Detect to Dominate
Sonic Radar III
Sonic Radar III got an overhaul, evolving the audio engine to process sounds more accurately than ever, ensuring you're always aware of what's going on around you — and an onscreen arrow has been added to help you pinpoint the enemy's position instantly! See the origin of key in-game sounds and hone your enemy-pinpointing skills. Plus the new audio boost feature provides filters that let you hear even the faintest sounds, so you can become the hunter, not the hunted!
Improved Audio Algorithm
The new Sonic Radar III audio algorithm is now even more accurate to allow enemies to be pinpointed with even more accuracy.
3D Engine
Sonic Radar III is built around its all new HUD with an in-game 3 dimensional arrow for a more intuitive experience.
Audio Boost
The new audio boost feature now allows the boosted audio to be heard directly.
Audio Radar
Sonic Radar III is effective regardless of surrounding noise and chaos.
Performance
Third-generation ASUS T-Topology
DDR4 overclocking strength in numbers
With support for DDR4 memory, ROG Strix B350-F Gaming lets you drive memory frequencies to 3200MHz and beyond when overclocked! ASUS-exclusive T-Topology circuit design provides superb memory-overclocking capability to unleash the full power of DDR4 by minimizing coupling noise and signal reflection. With innovative equidistant memory channels, T-Topology delivers balanced control and powerful overclocking compatibility.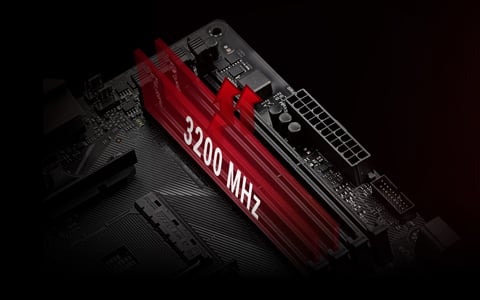 5-Way Optimization
Get performance, efficiency, digital power, fan control and even networking and audio tuning tailored for you — and the way you play!
You don't need to be an expert to max out gaming performance on your ROG Strix B350-F Gaming build — because 5-Way Optimization sorts all the complex settings with a click, for instant, highly-controllable performance boosts! The exclusive technology dynamically optimizes essential aspects of your system based on real-time use, so you get superb CPU performance, everyday energy savings, ultra-stable digital power, cool and quiet fans and even networking and audio settings that are tailored for the apps that you are using. In short, 5-Way Optimization ensures that your PC is perfect for gaming, entertainment, productivity or just about anything else!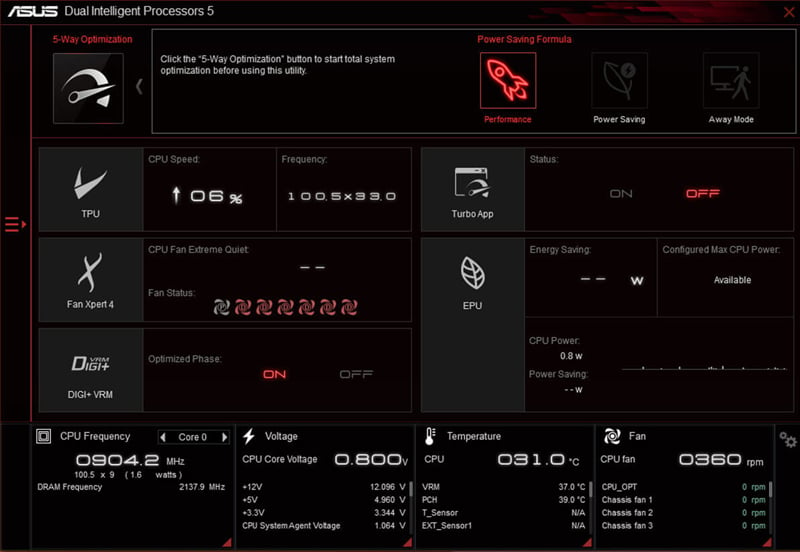 Cooler by Design
Play quieter and cooler with advanced fan and water-pump controls for the ultimate in undisturbed gaming. With onboard thermal sensors and hardware-level 4-pin/3-pin PWM/DC mode detection, Fan Xpert 4 makes sure every fan achieves the best balance of high cooling performance and low noise - so you enjoy all the performance you demand with none of the racket!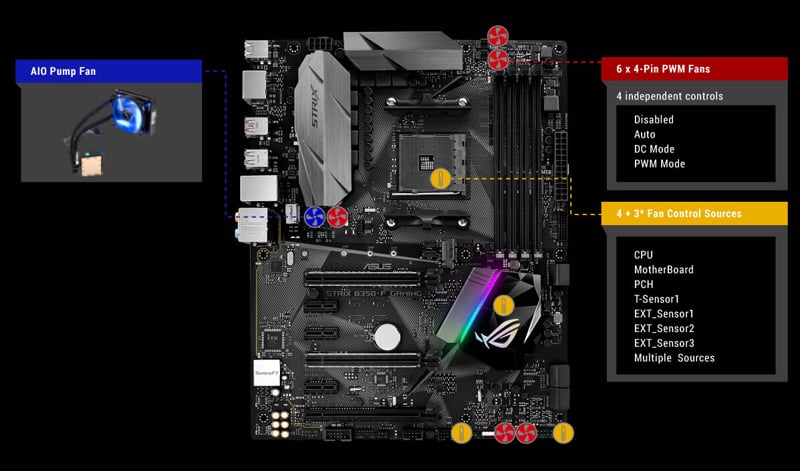 Fan Xpert 4
With high-end graphics cards being a significant source of heat in any build, the GPU has a bigger impact on case temperatures than any other component. With Fan Xpert 4 you're now able to set the GPU temperature as a fan-tuning source, enabling a dynamic cooling response to system power output!
RAMCACHE II
Speed your game loads
Uniquely intelligent technology effectively caches an entire storage device, so that favorite games and apps launch at breakneck speeds, getting to work the moment it's activated. RAMCache II turns milliseconds into microseconds to boost game-load times -- and of course it's compatible with the latest NVM Express storage options!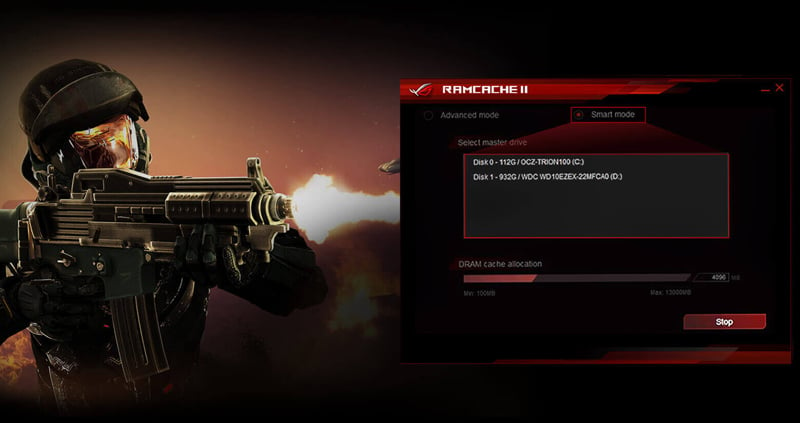 Award-Winning BIOS Design
The smoothest, slickest mouse-controlled graphical BIOS has been improved to make it even more appealing. Whether you're a PC novice or a seasoned overclocker, the EZ and Advanced Modes help you find your way. In EZ Mode you can get set-up very quickly, applying the date and time, fan profiles and Intel Extreme Memory Profile (XMP) memory profiles. Switch to Advanced Mode to set up favorites and shortcuts, record and review recent changes with Last Modified or make notes in Quick Notes.
CrashFree BIOS 3
Never again worry about corrupted BIOS, as CrashFree BIOS 3 lets you restore a PC to working order — even when it won't boot!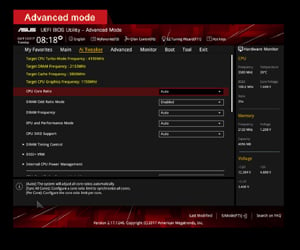 EZ Flash 3
Update the latest BIOS via the internet or from within the system BIOS.
Networking
INTEL Gigabit Ethernet
More throughput and less CPU usage for great gaming experiences
ROG Strix B350-F Gaming features the very latest Intel Ethernet Controller I211-AT for faster, smoother gaming. Intel's LAN has the serious double advantage of reducing CPU overhead and offering exceptionally high TCP and UDP throughput, so there's more power for your game and your gameplay.
LANGuard
Pumped-up throughput. Best surge protection
LANGuard means safer, more reliable connections for your battles! Advanced signal-coupling technology and premium surface-mounting processes join forces to protect your ROG Strix B350-F Gaming connection and deliver pumped-up throughput, plus electrostatically guarded and surge-protected components (ESD Guards) for 1.9x-greater tolerance to static electricity and 2.5x-greater protection (up to 15KV) against surges!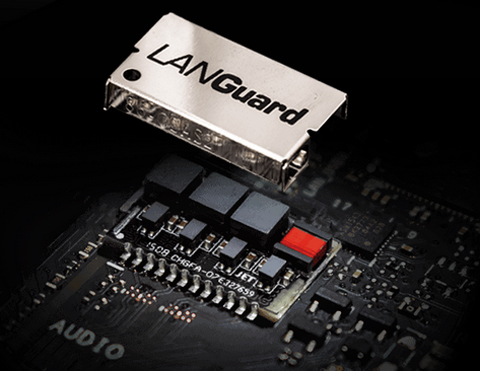 GAMEFIRST IV
Team up to banish lag
GameFirst IV optimizes network traffic for faster, lag-free online gaming — and now Multi-Gate Teaming has been added to team all your networks for maximum bandwidth and the smoothest-ever gameplay. You'll also enjoy all-new Intelligent mode, which automatically compiles a database by parsing new app data to ensure that every game is optimized for the best performance.
Connectivity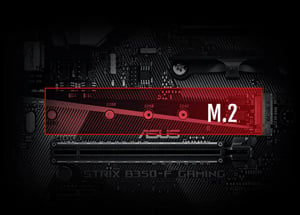 PCIe 3.0 M.2
Let your SSD scream at speeds of up to 32gbps

With x4 PCI Express 3.0/2.0 bandwidth, M.2 supports up to 32Gbps* data-transfer speeds. It is the perfect choice for an operating system or application drive, making your whole gaming PC or professional apps work as fast as possible.


* AMD Ryzen processor required for full PCIe 3.0 bandwidth.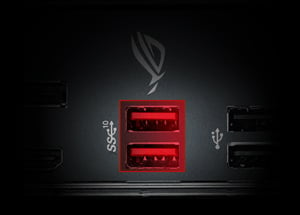 USB 3.1 type A
Ultimate 10Gbps data speeds

With USB 3.1 Type-A, you'll experience data-transfer speeds of up to 10Gbps — twice as fast as USB 3.0. USB 3.1 is also completely backward-compatible with existing USB devices, so you'll be set for breakneck USB 3.1 speeds with every connection. And as an added bonus, ASUS-exclusive USB 3.1 Boost technology automatically accelerates USB 3.1 performance even further.
Gamer's Guardian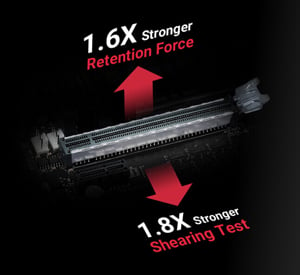 SafeSlot
ASUS SafeSlot is the PCIe slot reinvented. Featuring a new single-step, insert-molding manufacturing process that integrates fortifying metal and additional solder points, SafeSlot provides stronger PCIe device retention and greater shearing resistance.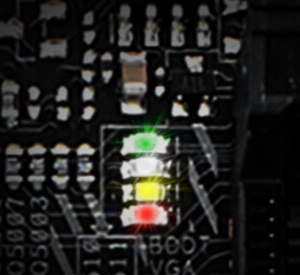 Q-LEDs
Onboard LEDs indicate the power status, and problems with the CPU, memory, graphics card or boot device for quick diagnosis.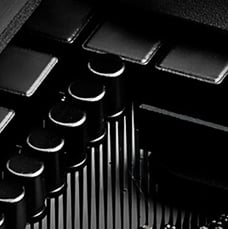 Highly durable components
Fine-quality, super-tough components are ASUS' watchwords. ASUS fits only superior chokes, plus durable capacitors engineered to resist extreme temperature variations of between -55? and 105? —110% better than the industry standard.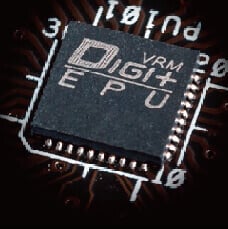 Digi+ VRM
Digi+ VRM voltage-regulator module (VRM) is one of the finest in the industry, ensuring ultra-smooth and ultra-clean power delivery to the CPU at all times!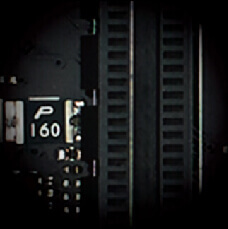 DRAM Over-current Protection
All connection ports and DRAM are protected against overcurrent and short-circuit damage by onboard resettable fuses, extending your motherboard's life.
Q-Shield
NO pain! Protect your hands from nicks and cuts.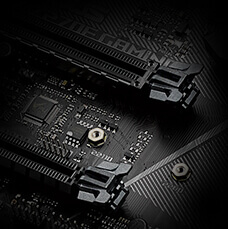 Q-Slot
1 clip design makes it easy to swap or secure your graphics card.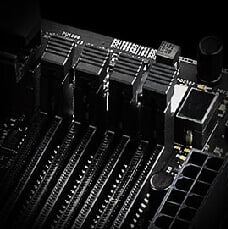 Q-DIMM
1 sided clip makes handling memory modules a cinch.
Rog Strix Gives You More
Overwolf
Stay in the game
Overwolf is a clever, unobtrusive overlay that lets you browse the internet, email, IM, and stream or record gameplay – all while you're in the game. Color-matched ROG skins that display your status as a member of an elite pack are also available for download from the Overwolf App Store.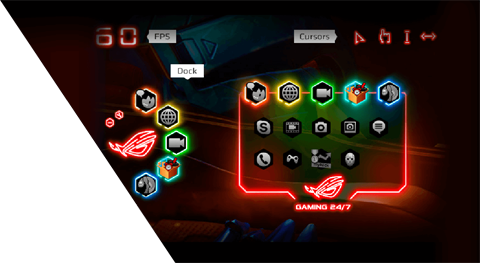 ROG Clone Drive
Image your drives, the smart way
All-new ROG Clone Drive is the smart, convenient cloning solution that quickly and efficiently replicates hard drives or SSDs. Clone Drive is so smart that it can clone one drive to two target drives at the same time, or image any file from your disk at breakneck speeds.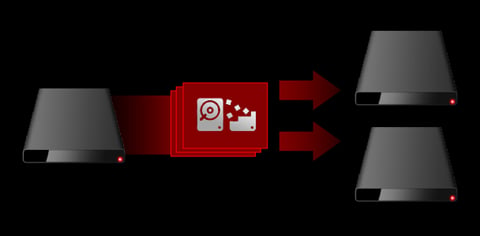 Beyond VR Ready
ROG Strix B350-F Gaming isn't just VR Ready — it goes way beyond! The ASUS ROG Beyond VR Ready marque means that ROG Strix B350-F Gaming has been tested with loads of class-leading components to ensure that your productivity, gaming and entertainment needs are tuned for maximum performance after you've taken off the headset. ASUS Beyond VR Ready opens up a new way to configure and build your dream system with total confidence.