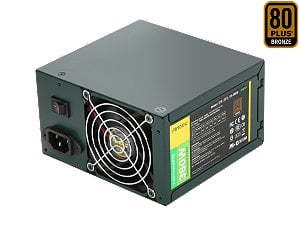 Antec EA-380D Green 380W ATX12V v2.3 / EPS12V Power Supply
Looking for a power supply that's cool, quiet and costs less to operate than traditional designs? With its independently certified 80 Plus BRONZE design, the Antec's EarthWatts EA-380D will do all that and more. The extra efficient circuitry of at least 80 percent efficiency at all loads means that using the Earthwatts EA-380D will save you money on your electrical bill. The 80mm low-noise fan cools the PSU quietly and helps make your entire system cooler. And the built-in Active PFC makes the Earthwatts EA-380D an ideal way to reduce electrical waste and protect the environment. Could this be your next power supply?
Get more power and lower your electric bill with the new EarthWatts Green series! One of the most environmentally-friendly power supplies available, the EarthWatts EA-380D Green efficiently delivers 380 Watts of reliable and stable power while meeting the Bronze level of efficiency from 80 PLUS®, the most widely recognized independent standard in power supply efficiency. On top of that, this EarthWatts power supply boasts universal input to automatically work on any power grid on the planet, and an 80mm fan to keep cool. Get the power you need, save money, and help protect the environment with Antec's EA-380D Green!
No power cord included.
By reusing your existing cord, you can reduce waste and help protect the environment.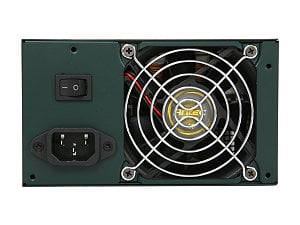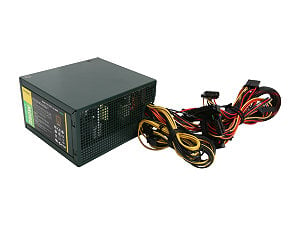 Features
80 PLUS® Bronze certified
ATX12V version 2.3
Universal Input - works on any 100V ~ 240V grid
Active Power Factor Correction (PFC)
Dual +12V output circuits
80mm low noise cooling fan
Industrial-grade protection circuitry prevents damage resulting from short circuits, over voltage, and over current
One 8-pin (4 + 4) ATX12V / EPS12V connector for CPUs
One 6-pin PCI-E connector
Safety approvals: UL, cUL, FCC, TÜV, CE, CB, C-tick, CCC, BSMI PF value up to 99%
Meets ErP Lot 6: 2010 requirement: 5Vsb < 1W
AQ3 - Antec Quality 3-year parts and labor warranty
No power cord included.
Unit Dimensions:
- 3.4 (H) x 5.9 (W) x 5.5" (D)
- 86 (H) x 150 (W) x 140mm (D)
Package Dimensions:
- 8.3 (H) x 9.0 (W) x 4.5" (D)
- 211 (H) x 229 (W) x 114mm (D)
Weight:
- Net: 3.6 lbs (1.6kg)
- Gross: 4.2 lbs (1.9kg)
ATX12V v2.3 Compatible Compatible with the ATX12V v2.3 standard, the Antec EarthWatts Green EA-380D power supply provides maximum power stability to drive the processors as well as other system components.
380W Maximum Power A maximum power of 380W delivers safe, reliable output for average gaming computer systems. Dual industry-leading independent +12v rails are provided for more stable and safer power output.
80 Plus BRONZE Certified The 80 Plus BRONZE certified power supply provides high power efficiency of at least 82% at any load between 20% and 100%, saving your money on your electrical bill, reducing heat in your computer's system and prolonging its life.
Efficient Cooling The Antec EarthWatts Green EA-380D is equipped with a low-noise 80mm fan to provide highly efficient cooling for the power supply and the whole system while remaining quiet operation.