8-core processor with 5.0 GHZ Max Turbo speed, and 4.7 GHz CPU base. Fully unlocked.
The AMD FX-9590 is the world's first 5GHz CPU processor with 4.7GHz base frequency and 5GHz turbo frequency. The ground breaking frequency with eight cores delivers new levels of gaming and multimedia performance for desktop enthusiasts. You can immerse yourself in the most advanced 3D games, and achieve extreme mega-tasking with ease.
Based on the 32nm "Piledriver" architecture, the AMD FX-9590 is fully unlocked for easy overclocking and pave the way for enthusiasts to enjoy higher CPU speeds and related performance gains*. AMD Turbo Core 3.0 technology dynamically optimizes performance across CPU cores and enables maximum computing for the most intensive workloads.
Dive into the pure core performance, and feel and enjoy unmatched multitasking and extreme responsiveness.
* AMD's product warranty does not cover damage caused by overclocking (even when overclocking is enabled via AMD OverDrive software).
The AMD FX 9000 Series processors feature a 220 Watt TDP and have three unique requirements:
1) A robust CPU liquid cooling system. The Antec Kuhler H20 925, Cooler Master Nepton 120XL, and Corsair H80i are examples of products with sufficient cooling capacity.
2) A socket AM3+ motherboard that supports processors with a 220 Watt TDP. As of September 15, 2015, the compatible motherboard list is as follows:
Asus Crosshair V Formula-Z
Asus SABERTOOTH 990FX R2.0
Asus M5A99FX PRO R2.0
Gigabyte 990FXA-UD3/Gigabyte 990FXA-UD3 R5
Gigabyte 990FXA-UD5/Gigabyte 990FXA-UD5 R5
Gigabyte 990FXA-UD7
MSI 990FXA-Gaming
Asrock 990FX Extreme9
Asrock 990FX Extreme6
Asrock Fatal1ty 990FX Professional
3) Chassis exhaust fan mounted near the motherboard VRM components with at least 35CFM of air flow capacity
AMD FX-9590 4.7GHz Socket AM3+ Eight-Core Desktop Processor Overview
The Control You Want
Unlocked clock multiplier for a powerful overclocking advantage (AMD's product warranty does not cover damages caused by overclocking, even when overclocking is enabled via AMD hardware)
Highly configurable power and performance curve via AMD OverDrive software
Tailor your experience to your personal preference, whether it's performance, efficiency, or low noise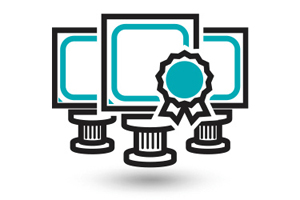 Reliability You Deserve
AMD processors power premium products and world-class operations from industry leaders like HP, Microsoft, Samsung Electronics, and Sony
The AMD FX processor is built from the company's 8th generation x86 CPU architecture based on over 40 years of silicon-crafting experience
New Instruction Capabilities
AVX - Advanced Vector Extensions increase parallelism for scientific and 3D apps using heavy floating point calculations
FMA4 and XOP – Floating-Point Vector Multiply-Accumulate and eXtended Operations improve throughput and performance on many integer and floating point vector functions
AES - Advanced Encryption Standard increases performance on encryption apps like TrueCrypt and PCMark
AMD Turbo Core Technology
AMD FX Processors come equipped with AMD Turbo Core Technology. AMD Turbo Core Technology is a performance boosting technology that helps increase performance on the applications that need it the most.
AMD Balanced Smart Cache
Shared L3 cache (up to 8MB)
Improved scheduling and pre-fetch capabilities
64-ways (16-ways/sub-cache)
Increased data queue sizes
Coherency for multi-cores
AMD Wide Floating Point Accelerator
Shared FP Scheduler
Dual 128-bit Floating point engines – capable of teaming together for 256-bit AVX instructions or operating separately with each core
HyperTransport Technology
Provides quick access times to system I/O for better performance.
One 16-bit link at up to 5600MT/s
Up to 8.0GB/s HyperTransport I/O bandwidth; Up to 16GB/s in HyperTransport Generation 3.0 mode
Up to 37GB/s total delivered processor-to-system bandwidth (HyperTransport bus + memory bus)
Integrated DRAM Controller with AMD Memory Optimizer Technology
An optimized, high-bandwidth, low-latency integrated memory controller to feed more cores.
Supports up to DDR3-1866
Supports low voltage memories of 1.35V and 1.2V
Up to 29.9GB/s memory bandwidth for DDR3
Pre-Fetcher improvements
Direct communications to each core in Dual-Core module (APIC registers in each core)
AMD Virtualization (AMD-V) Technology with IOMMU
These silicon feature-set enhancements are designed to improve the performance, reliability and security of existing and future virtualization environments by allowing virtualized applications direct and rapid access to their allocated memory. IOMMU is an extension to AMD64 architecture to support address translation and access protection on DMA transfers. Together, virtualization software runs more securely and efficiently enabling a better experience when dealing with virtual systems.
Security for User Level application and Virtual Machine guest operating system
Address translation and access control
Device isolation
Device assignment in virtualized systems
Security and trusted boot support
Unified interrupt management
AMD PowerNow! AMD Technology (Cool'n'Quiet Technology)
Enhanced power management features automatically and instantaneously adjust performance states and features based on processor performance requirements, helping users get more efficient performance by dynamically activating or turning off parts of the processor.
C6 power state flushes the cache and removes voltage from individual cores to help reduce power consumption
CC6 power state puts all cores in C6 into an even lower power state for quieter operation and reduced power requirements
Separate memory controller power control
IO-based c-state interface
Works automatically without the need for drivers or BIOS enablement.
Power can be switched on or off within a single clock cycle, saving energy with minimal impact on performance
Benefit: Helps users get more efficient performance by dynamically activating or turning off parts of the processor.