Wavlink 2.4G WiFi 300Mbps Outdoor AP/ Repeater/Router/ CPE/ Wireless Bridge Stable and Long-range Wi-Fi is Provided to Wherever Needs it
The HighPower Wi-Fi AP/Repeater is ideal for long distance point-to-point/multi-point wireless data transmission, providing a free Wi-Fi service in remote such as factory, community, street or etc. The AP/Repeater can take an existing 2.4GHz wireless signal, repeat and extend it to a longer range where it is far away for the router or access point to reach, and it supports 2.4G transmission speeds of up to 300Mbps. It has one directional flat antenna (2 x built-in 11dBi high gain antennas) providing even better wireless performance, transmission rates, stability technology automatically avoids channel conflicts using its channel selection feature. Wish you'd have an enjoyable use experience with our product!
Flexible Deployment
24V passive PoE adapter supports up to 80 meter (262 feet) deployment, for easier installation and lower cost. And it can be installed in areas where power outlets are not readily available, eliminating the mess of altering existing network infrastructure.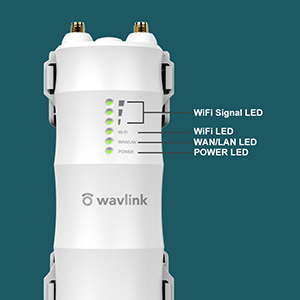 Multiple LED Indicators
6 status LED indicators help you see the power/ internet status of device. Since the green lights might be not so obvious in the open air, you can try to cover the device with your hand to check.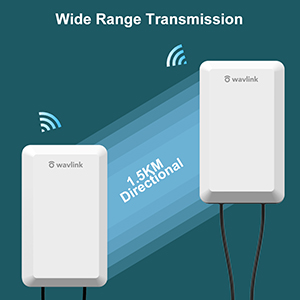 Wide Range Transmission
1.5km wireless data transmission range for point to point/multi-point use(the result is from testing two products use together---one as sender and one as receiver), suitable for surveillance networks.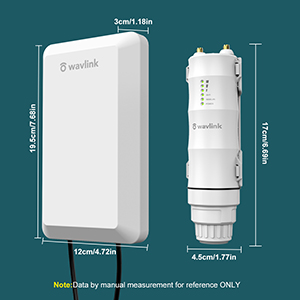 Product Dimension
Panel (L * W * T): length 19.5cm/7.68in, width 12cm/4.72in, thickness 3cm/1.18in; Router: diameter 4.5cm/1.77in, height 17cm/6.69in. Note: Data by manual measurement for reference ONLY.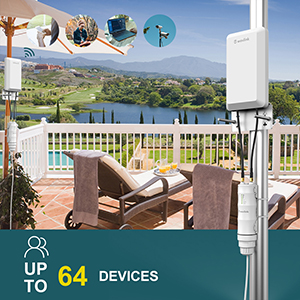 Up to 64 Devices
Share WiFi network with up to 64 devices and enjoy 300Mbps network speed.(200 meters wireless data transmission range specifically determined by the environment and the antenna gain and power of the client.)
Multi-Working Modes Accessible
Supports AP/Router/Repeater Mode, which can meet your network requirements in different environment. 200 meters wireless data transmission range specifically determined by the environment and the antenna gain and power of the client
Installation Instruction
Installation Height: Keep the height of the flat antenna 2-3 meters above the ground without obstruction, and 1-2 meters horizontal drop from the network terminal (mobile phone, surveillance camera).
Installation Direction: The signal facing the front of the panel antenna is much stronger, please pay attention to whether the front and back of the antenna panel are facing correctly when installing.
Installation Steps: Support flexible deployment on the wall or on the round pole. For detailed steps, please refer to our step-by-step diagrams in this page or installation instructions in the package.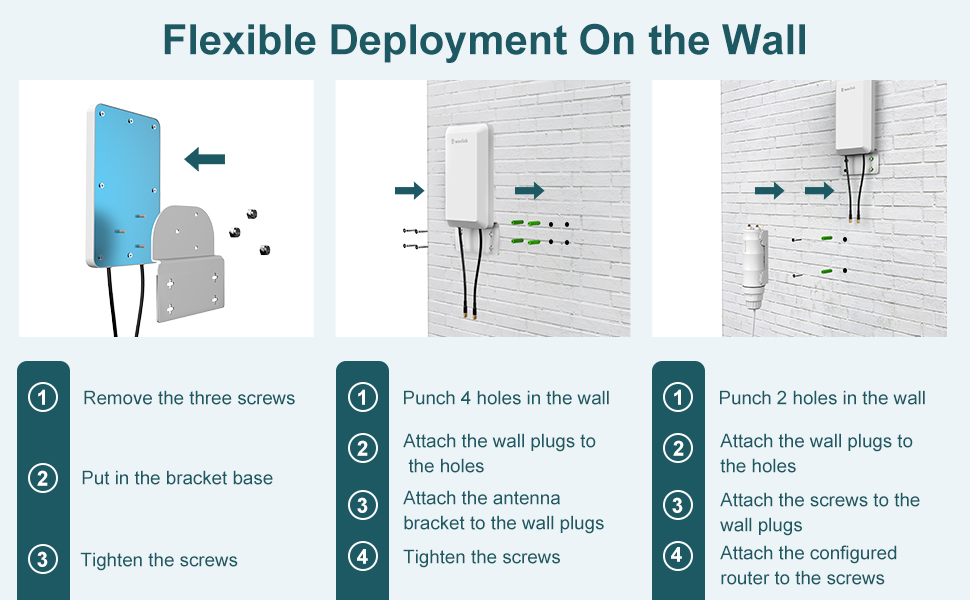 Features
- Easy installation, flexible placement
- Supports Router, AP, Repeater modes
- High transmission power for 1500 meters extreme Wi-Fi coverage
- Features 2 x RP-SMA connectors for external antennas
- Robust weatherproof enclosure design, 15KV ESD and 4KV Lightning Protection
- Supports passive PoE power supply(through network cable)up to 80 meters
- Complies with IEEE 802.11b/g/n standards, wireless speed up to 300 Mbps
- Supports 128 bit WPA/WPA2(TKIP/AES)
- Features 6 x status LED indicators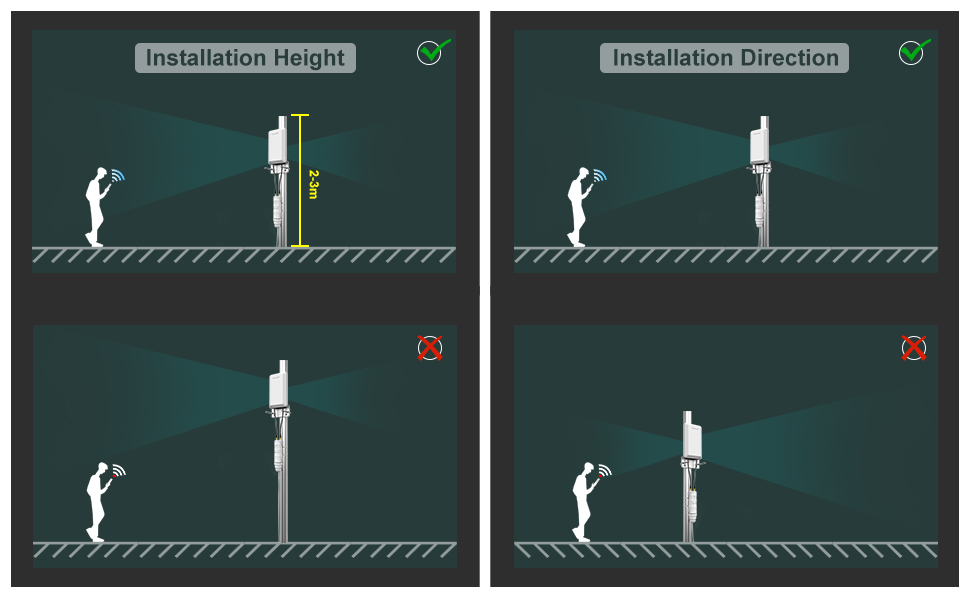 Please Note:
* The real performance of the product may vary in accordance with different environmental conditions.
* If your device is damaged or defective, please contact our customer service for more details.
* All pictures shown on the package are for illustration purpose only.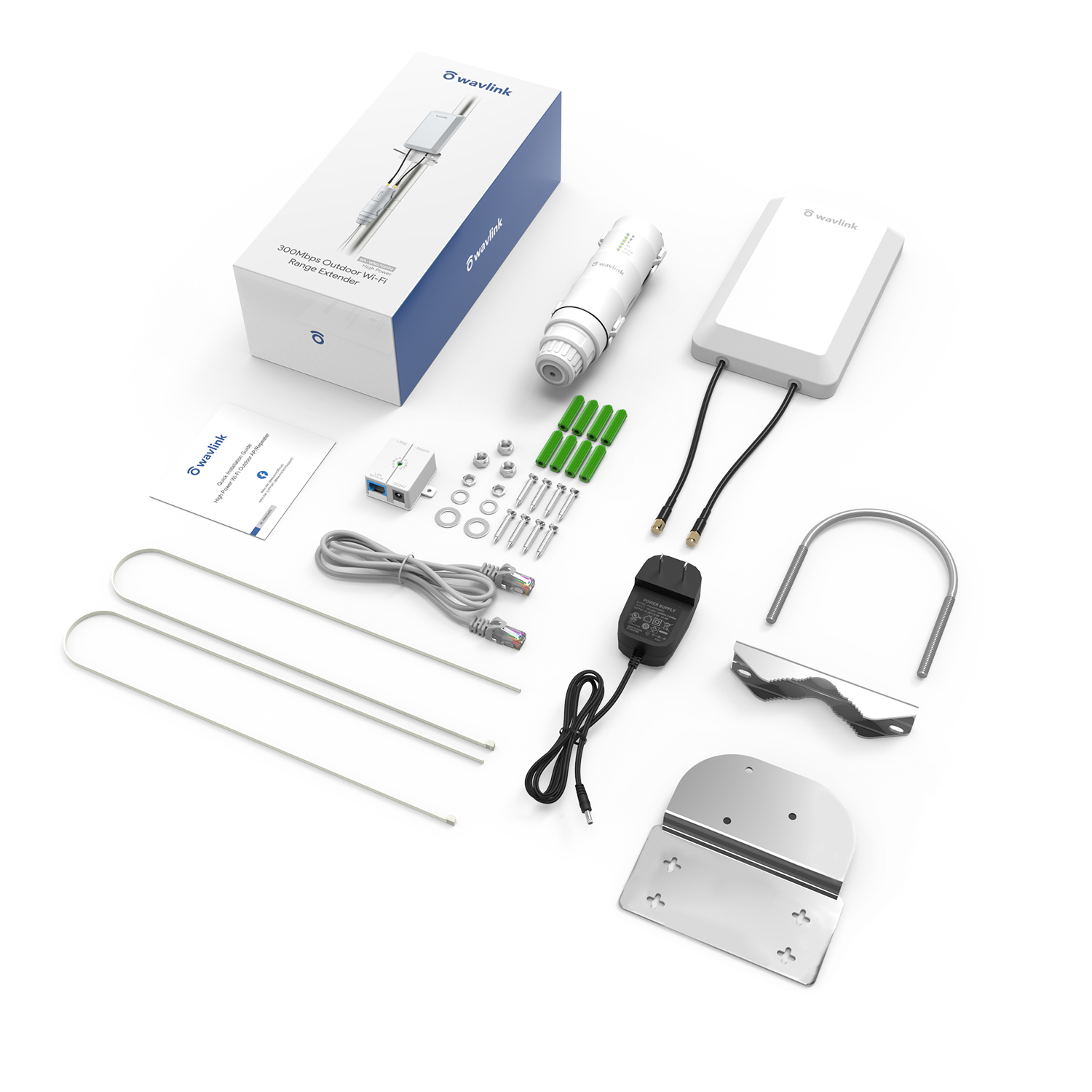 What You Get:
1x Outdoor Wi-Fi range extender;
1x Directional antenna panel;
1x Main body holder;
1x PoE converter;
1x RJ-45 network cable;
1x Screw/Bracket fitting kit;
1x Power adapter;
2x Cable ties;
1x Quick start guide;
1xInstallation instruction.