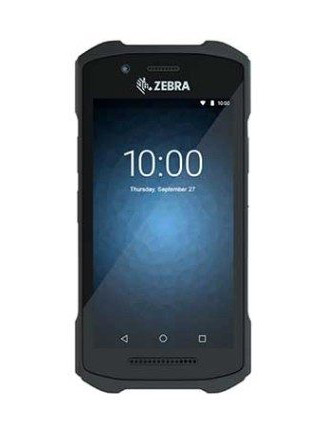 TC21/TC26 TOUCH COMPUTER
Considering low-cost mobile phones for your workers? Step up to the business-class durable TC21/TC26 Touch Computers — without stepping up in price. Choose the connectivity your workers need — the Wi-Fi-only TC21 or the Wi-Fi/cellular TC26 which now supports CBRS. Then choose the features that will allow your workers to improve task accuracy and on-the-job efficiency. And you can protect it all with the affordable optional Zebra OneCare™ SV support plan, which covers normal wear and tear and much more. Validated by Microsoft Teams to now run the Walkie Talkie app.
A NEW LEVEL OF FEATURES FOR A VALUE-PRICED DEVICE
You get consumer cell phone pricing but big business features, including a durable design, faster processor, Android platform — loaded with powerful business features, wireless connections and a large 5-inch HD display, plus superior voice quality over cellular (TC26 only) and Wi-Fi networks, all in a lightweight right-sized device designed for one-handed operation.
THE MOST OPTIONS TO CUSTOMIZE YOUR DEVICES FOR THE JOB
For scan intensive tasks, choose from two dedicated scan engines. Get up to 14 hours of power for a double shift with the extended battery. Support technicians in the field with a 5 MP front camera for video calling. A wearable wrist mount provides comfortable hands-free operation, while RS5100 Bluetooth ring scanner adds hands-free scanning — and new accessories add extra durability and expand use cases.
MOBILITY DNA: AN EXTRAORDINARY TOOLSET FOR UNMATCHED VALUE
Every device comes standard with Mobility DNA Professional, a suite of powerful tools that put the TC21/TC26 in a class of its own. Tools are pre-loaded and ready to use. And you can unlock powerful advanced tools that take workforce productivity and device management simplicity to a new level with the optional Mobility DNA Enterprise License.
Right Sized. Right Featured. Right Price.