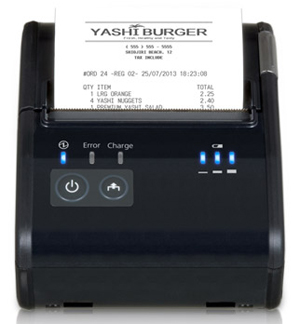 The Epson Mobilink P80 is a mobile receipt printer ideal for various PoS environments like retail and food service. The lightweight printer offers the fastest printing speed in its class at up to 100mm/second to meets the needs of busy retail locations. Up to 40 hours* of battery life means you can print anytime, anywhere, without worrying about power outage in the middle of your business day. It also features rugged build with a 4 ft. drop rating and IP54 certification, Wi-Fi and Bluetooth connectivity, and supports all the leading mobile operating systems.
On-the-Go Performance Printing
Lightweight and ultra-compact, the Mobilink P80 delivers all the features you need to print anywhere, anytime. It offers the fastest printing in its class with speeds up to 100mm/second, flexible connectivity, a ruggedized design with a 4-foot drop rating and IP54 certification and easily fits in the palm of your hand.
Industry-Leading Battery Life
To ensure uninterrupted service to your customers, Epson's Mobilink P80 features an unmatched operational battery life of up to 20 hours with 802.11 models and up to 40 hours with Bluetooth models*.
Multi-Platform Printing Made Easy
With Epson's unique ePOS-Print technology, the Mobilink P80 can print from any devices running iOS, Android or Windows operating system, using any HTML5 browser or native application. This provides an easy and smart solution for today's mobile printing requirements.
Compatible and Ready to Go
Epson's Mobilink P80 wireless printer is compatible with all of today's best-of- breed POS systems and the latest industry-standard wireless security protocols. The printer comes complete with ESC/POS, OPOS, JavaPOS and Windows drivers which means your current POS software and applications are instantly compatible.
Improve Customer Experience
With Epson's Mobilink P80 three-inch receipt printer, you can print the same high quality receipts for your customers as your Epson TM-series counter printers. And because they print the same size receipt, there is no additional development required.
Reduce Your Paper Costs
With the Mobilink P80 paper-saving options, you can reduce your paper usage by up to 23%. The paper-saving settings are easy to use and do not affect print quality, readability or font size.
* The Mobilink P80 battery life can vary significantly depending on usage. Up to 20 hours with 802.11, up to 40 hours with Bluetooth 2.1 + EDR.