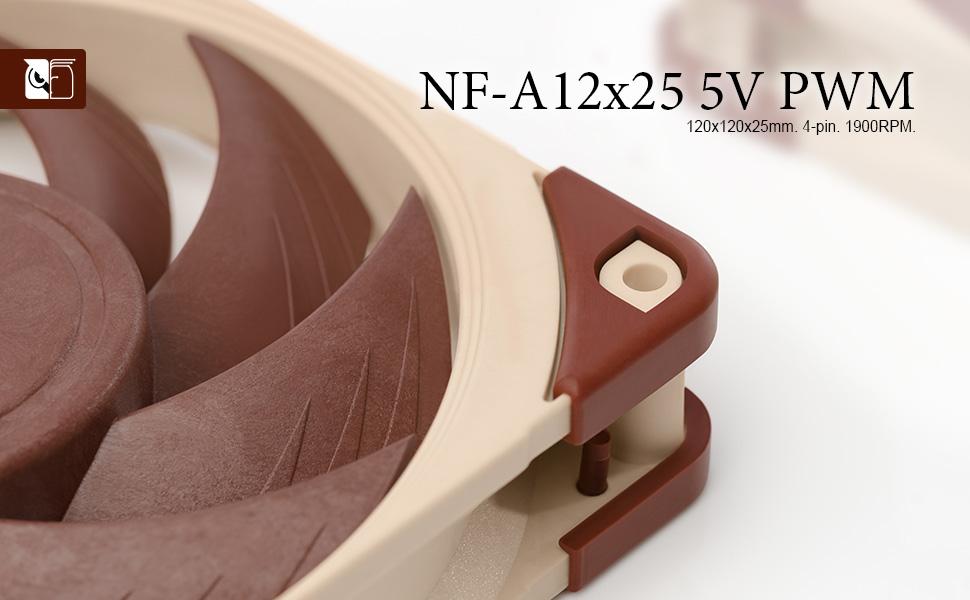 The NF-A12x25 5V PWM is a PWM-enabled 5V variant of Noctua's award-winning, premium-quality NF-A12x25 120mm fan. Featuring an AAO (Advanced Acoustic Optimisation) standard frame and sophisticated aerodynamic design measures such as Flow Acceleration Channels, the NF-A12x25 is renowned for its superior performance and outstanding quietness of operation. Smooth Commutation Drive technology and Noctua's reference class SSO2 bearing assures superb running smoothness and excellent long-term stability. Topped off with the included USB power adaptor cable and OmniJoin adaptor set, the NF-A12x25 5V PWM is a premium choice for demanding 5V applications that require PWM control.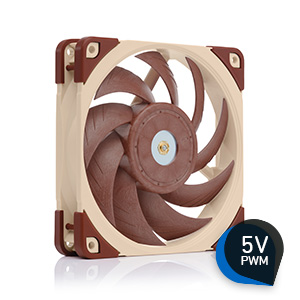 5V PWM version
5V fans are used in various devices and applications. With the included USB power adaptor cable and OmniJoin adaptor set, the NF-A12x25 5V PWM is a proven premium solution that gives you full flexibility both for replacing existing 5V fans and for new, custom applications.
Please Note: Being a 5V fan, the NF-A12x25 5V PWM cannot be run at 12V and will be damaged when used with typical 12V power sources such as PC motherboard fan headers.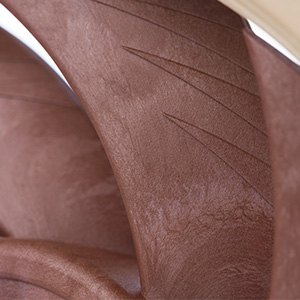 Sterrox liquid-crystal polymer compound
| | |
| --- | --- |
| The NF-A12x25's impeller is made from Noctua's novel Sterrox liquid-crystal polymer (LCP) compound that features extreme tensile strength, an exceptionally low thermal expansion coefficient and damping characteristics that are ideal for reducing resonance and vibration phenomena in advanced fan-blade designs. | |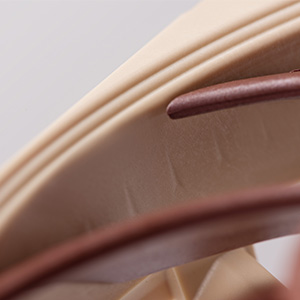 Ultra-tight tip clearance
| | |
| --- | --- |
| The NF-A12x25 has a record tight tip clearance (distance between the blade tips and the inside of the frame) of only 0.5mm. This highly ambitious design sets a new benchmark for 120mm fans and helps the NF-A12x25 to work more efficiently against back pressure, such as on heatsinks or radiators, by reducing leak flows through the gap between impeller and frame. | |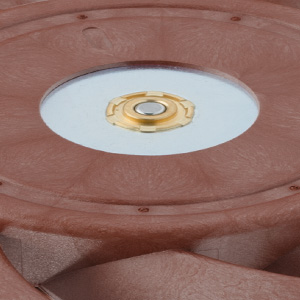 Metal-reinforced motor hub
| | |
| --- | --- |
| The centrepiece of the NF-A12x25's motor hub is made entirely from steel and the axle mount is reinforced with an additional brass structure. In combination, both measures ensure ultimate precision and increased stability in the critical hub area. | |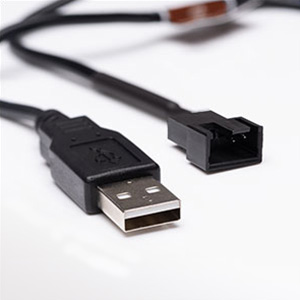 USB power adaptor cable
The fan includes a USB power adaptor cable that allows it to run on power banks, devices with USB host ports or USB power supplies such as those used for smartphones.

| | | | | | | |
| --- | --- | --- | --- | --- | --- | --- |
| Products | NF-A12x25 PWM | NF-A12x25 FLX | NF-A12x25 ULN | NF-A12x25 5V PWM | NF-A12x25 5V | NF-A12x25 PWM chromax.black.swap |
| Connector | 4-pin PWM | 3-pin | 3-pin | 4-pin PWM | 3-pin | 4-pin PWM |
| Voltage | 12V | 12V | 12V | 5V | 5V | 12V |
| RPM | Max: 2000 / Min: 450 | 2000 | 1200 | Max: 1900 / Min: 450 | 1900 | Max: 2000 / Min: 450 |
| RPM with L.N.A. | 1700 | 1700 | 900 | - | - | - |
| RPM with U.L.N.A. | - | 1350 | - | - | - | - |
| Acoustical Noise | 22,6 dB(A) | 22,6 dB(A) | 12,1 dB(A) | 21,4 dB(A) | 21,4 dB(A) | 22,6 dB(A) |
| Acoustical Noise with L.N.A. | 18,8 dB(A) | 18,8 dB(A) | 7,6 dB(A) | - | - | - |
| Acoustical Noise with U.L.N.A. | - | 14,2 dB(A) | - | - | - | - |
| Size | 120x120x25 | 120x120x25 | 120x120x25 | 120x120x25 | 120x120x25 | 120x120x25 |
| Colour | Brown & Beige | Brown & Beige | Brown & Beige | Brown & Beige | Brown & Beige | Black with swappable coloured anti-vibration pads |