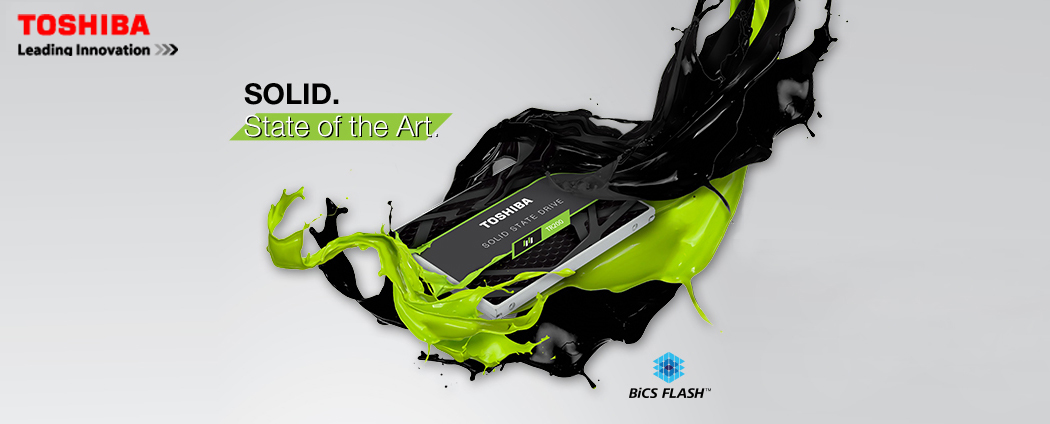 OCZ TR200

Solid State Drive
We don't like to refer to the TR200 as just another SSD - we prefer to think of it as a work of art. Designed by the creative minds at Toshiba, the TR200 SATA series transcends traditional storage technology. Equipped with innovative 64-layer 3-bit-per-cell TLC BiCS FLASH, the TR200 delivers enhanced power consumption and improved system performance over a standard hard drive, providing excellent value perfect for DIY system builders and first time upgraders. Don't settle for boring old storage – choose the TR200 – a solid...state of art.
Specifications
Sequential Read/Write Speed1
Up to 555/540 MB/s
Random Read/Write Speed (4KiB)2
Up to 82,000/88,000 IOPS
Endurance3
Up to 240 TB TBW (Total Bytes Written)
Capacities4
240GB, 480GB, 960GB
Included
SSD Utility (SSD management software)
Technology
64-layer 3D BiCS FLASH
State-of-the-art Storage
With a 64-layer vertically stacked cell structure, Toshiba BiCS FLASH technology enables higher capacity, endurance, performance, and efficiency in the same footprint, delivering a state-of-the-art storage experience.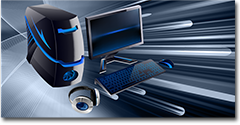 Instant Performance Upgrade
Up your productivity with the TR200 Series and enjoy faster boot ups, file transfers, and system responsiveness. Say goodbye to hard disk drive lag and get a co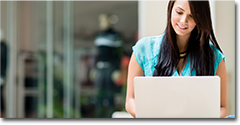 Performance Made Affordable
Upgrading to an SSD from a conventional HDD can feel like you've purchased an entirely new system. TR200 SSDs balance price and performance so you have enough funds left over for other upgrades.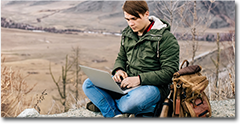 Improved for On-the-Go
Compared to hard disk drives, Toshiba OCZ TR200 SSDs also offer improved durability and power consumption, which can translate into longer battery life to keep you up and running longer.
1. Sequential speeds are measured with ATTO v3.05, QD10.
2. 4KiB random performance is measured with CrystalDiskMark 5.1.2 x64 QD32.
3. Definition and conditions of TBW (Terabytes Written) are based on JEDEC standard; JESD218A, February 2011, and defined for the service life.
4. Definition of capacity: Toshiba defines a megabyte (MB) as 1,000,000 bytes, a gigabyte (GB) as 1,000,000,000 bytes and a terabyte (TB) as 1,000,000,000,000 bytes. A computer operating system, however, reports storage capacity using powers of 2 for the definition of 1GB = 230 = 1,073,741,824 bytes and therefore shows less storage capacity. Available storage capacity (including examples of various media files) will vary based on file size, formatting, settings, software and operating system, such as Microsoft Operating System and/or pre-installed software applications, or media content. Actual formatted capacity may vary.
© 2017 TOSHIBA MEMORY CORPORATION, All rights reserved. OCZ is a trademark of Toshiba Memory Corporation.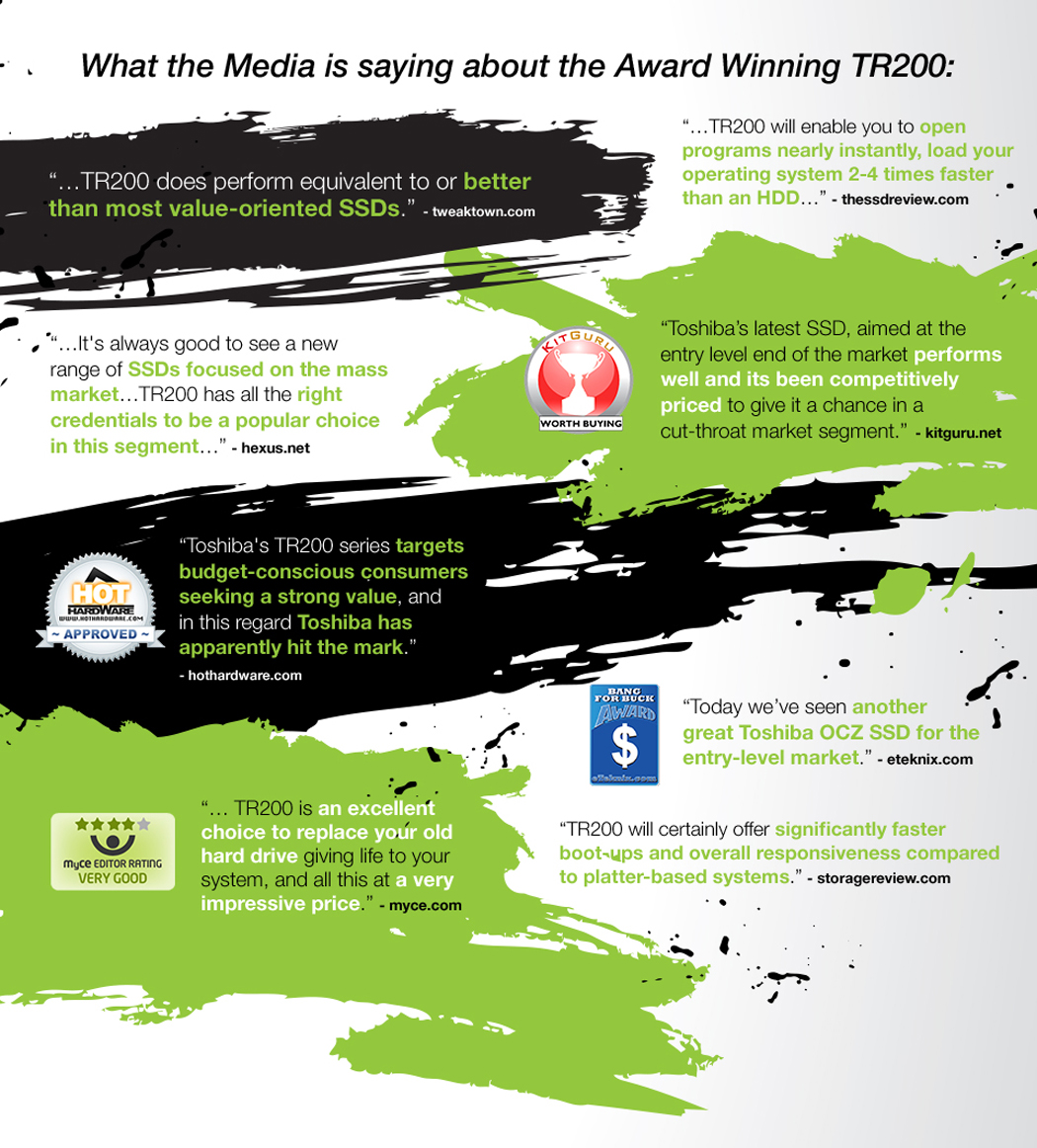 "…TR200 does perform equivalent to or better than most value-oriented SSDs." - tweaktown.com
"…TR200 will enable you to open programs nearly instantly, load your operating system 2-4 times faster than an HDD…" - thessdreview.com
"…It's always good to see a new range of SSDs focused on the mass market…TR200 has all the right credentials to be a popular choice in this segment…" - hexus.net
"Toshiba's latest SSD, aimed at the entry level end of the market performs well and its been competitively priced to give it a chance in a cut-throat market segment." - kitguru.net
"Toshiba's TR200 series targets budget-conscious consumers seeking a strong value, and in this regard Toshiba has apparently hit the mark." - hothardware.com
"Today we've seen another great Toshiba OCZ SSD for the entry-level market." - eteknix.com
"… TR200 is an excellent choice to replace your old hard drive giving life to your system, and all this at a very impressive price." - myce.com
"TR200 will certainly offer significantly faster boot-ups and overall responsiveness compared to platter-based systems." - storagereview.com