Flash Voyager GT USB 3.0 Flash Drive
The Corsair Flash Voyager GT is a premium USB 3.0 flash drive. Its standard USB 3.0 port provides optimal transfer speed, while remaining backward compatible with USB 2.0. The durable housing is shockproof and water-resistant, protecting your data and files from any shock and physical damage. Just plug and play. No driver required.
Available in 32GB, 64GB, 128GB, 256GB and 512GB to meet your needs.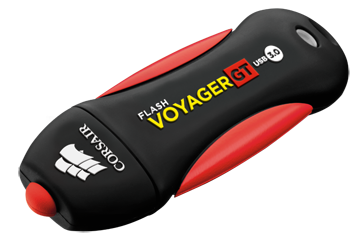 GO BEYOND ORDINARY USB 3.0 SPEED
Standard USB 3.0 flash drives are fast. Flash Voyager GT USB 3.0 is even faster, with data transfer rates of up to two times the speed of standard USB 3.0 drives, and up to eight times the speed of USB 2.0 drives. The portability and convenience of USB drives has always meant putting up with delays while waiting for files to copy, but now they're a thing of the past.
HIGH-SPEED DATA TRANSFER EVEN OVER USB 2.0
Chances are that you're still using at least one PC that hasn't yet been upgraded to USB 3.0. Flash Voyager GT has you covered: not only is it fully compatible with USB 2.0, it's also one of the fastest USB 2.0 flash drives on the market. Data transfer across multiple PCs is both fast and worry-free.
And even if you haven't moved to USB 3.0 on your primary system, Flash Voyager GT USB 3.0 is still a great investment. You'll enjoy screaming-fast data transfer rates that push the limits of USB 2.0 performance, and unlock a new speed achievement with your next upgrade.
DURABLE AND SHOCK-RESISTANT
The finger-friendly ergonomics of the Flash Voyager GT USB 3.0 will make you want to take it with you everywhere, so reliability is essential.
Corsair's proprietary all-rubber housing is extremely durable, for worry-free transport of your valuable data. And because accidents happen, Flash Voyager GT USB 3.0 is water-resistant.
Unlike traditional storage media, flash drives are solid-state, so they can easily handle the everyday—and not so everyday—drops and bumps that come with the territory.
CONVENIENT AND COMPATIBLE
It works with Microsoft Windows, Mac OS X and even Linux without drivers, and there's no software to install—just plug it in, and go. If your computer has a USB 2.0 or USB 3.0 connector, you can use Flash Voyager GT USB 3.0.