BOOT FASTER. LOAD FASTER. SHOOT FASTER.
Solid State Hybrid Drives take game play to a whole new level.

"Whether you're into video editing, music or gaming, with Seagate's new Desktop SSHD you can now have your cake and eat it too... SSD-like speed, hard drive capacity—all at an affordable price—makes the Seagate Desktop SSHD a perfect choice for gaming enthusiasts like me."
- Kevin Wasielewski, CEO and Co-Founder, Origin PC
SSHDs take out the competition
See how SSHDs perform against SSDs and traditional hard drives.
SSHD delivers faster map load speed for non-stop performance and non-stop play.
Boots Windows® 8 in less than 10 seconds.
Performs up to 5x faster than typical desktop hard drives.*
Improves overall responsiveness by 20% or more.
* As measured by PCMark Vantage storage benchmarking software.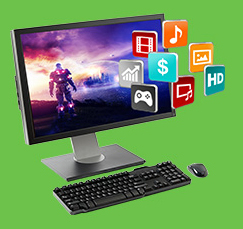 Size matters. Get up to 4TB of gaming storage.
No need to sacrifice capacity for performance.
1 - 4TB of massive storage capacity.
8GB integrated NAND Flash.
More room for all your games.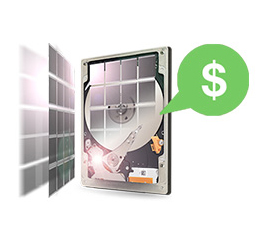 A richer gaming experience, affordably priced.
Get SSD-like performance and hard drive capacity at a great price.
A fraction of the cost of SSDs.
Eliminates firmware complexity and cost of SSD + HDD.
Easy, DIY installation.
Backed by a 5-year warranty.
Fits any standard desktop.
Specifications
4TB
2TB
1TB
Model Number
ST4000DX001
ST2000DX001
ST1000DX001
Interface Options
SATA 6Gbps NCQ
SATA 6Gbps NCQ
SATA 6Gbps NCQ
Configuration / Organization
Heads / Disks
8 / 4
4 / 2
2 / 1
Bytes per Sector
4096
4096
4096
Performance
NAND Type / Size
MLC / 8GB
MLC / 8GB
MLC / 8GB
DRAM Cache (MB)
64
64
64
SATA Transfer Rates Supported (Gbps)
6.0 / 3.0 / 1.5
6.0 / 3.0 / 1.5
6.0 / 3.0 / 1.5
Seek Average, Read (ms)
<12
<12
<12
Seek Average, Write (ms)
<12
<12
<12
Average Data Rate, Read, Avg All Zones (MBps)
146
158
158
Average Data Rate From NAND Media (MBps)
190
190
190
How Much Will it Store?
Digital Music (Songs)
66,640
33,320
16,660
Digital Photos (Files)
1,280,000
640,000
320,000
HD Video (Hours)
4,000
2,000
1,000
DVD Video (Hours)
1,000
500
250
Video Games (Hours)
2,000
1,000
500
*Quantitative usage examples for various applications are for illustrative purposes. Actual quantities will vary based on various factors, including file size, file format, features, and application software.
SEAGATE 3.5 INCH INTERNAL DRIVE COMPARISON
Desktop HDD
DESKTOP SSHD
NAS HDD
SURVEILLANCE HDD
Reliable performance made for home and store everything
5x faster than Desktop HDD. More capacity than SSD (1)
Up to 25% faster than other brands, made for home and small office data sharing (2)
Optimized to improve surveillance system reliability, reduce costs and support video analytics
Capacity
1TB - 4TB
1TB, 2TB, 4TB
2TB, 3TB, 4TB
1TB - 6TB
Ideal for
Home and Business Computing
Gaming system, video editing, power computing
1 - 8 bay NAS systems for Home, SMB
DVR or NVR systems with multiple drives and HD cameras
Cache
64MB (1-4TB)
64MB with 8GB NAND Flash
64MB
64MB
Power-on Hours
8x5
8x5
24x7
24x7
SSD-like performance
✔
Network storage
✔
✔
Photo and Video Editing
✔
DVR & Video Surveillance
✔
RV Sensors (3)
✔
✔
(4)
✔
✔
RAID Support
✔
✔
Warranty
2 years
5 years
3 years
3 years

1. Based on PC Mark Vantage storage benchmarking software.
2. Seagate SAN HDD 4TB perfoms up to 25% faster than other brands, Based on Tom's hardware.
3. RV sensors are Rotational Vibration sensors.
4. Seagate Data Recovery Services options are activated upon purchase