Why Do You Need A
da Vinci Jr.
Big Things Come in
Small Packages
Don't let its slimmer and lighter look fool you, the da Vinci Jr. has a robust build size of 5.9 x 5.9 x 5.9 inches and a resolution of 100 to 400 microns. Its design allows for the inclusion of an auto-feeding filament system, which takes the PLA filament to the extruder, and ensures that the filament is loaded properly and is ready to print.
EZ-Offset
Calibration!
Traditional 3-to-4 knob calibrations on the beds of 3D printers are complicated, but with the da Vinci Jr. 1.0, the print bed is already completely leveled and it only requires a Z Offset calibration. With the Z Offset calibration, you can adjust the distances between the extruder and the print bed, making sure that each print comes out perfectly.
Just Press
and Release!
The da Vinci Jr. features a fluid, press-and-release extruder which makes for an easy extruder replacement or cleaning experience. Simply open up your 3D printer, press the release button, and the replacement or cleaning process can be done within few seconds.
Print Smart,
Print Green
The da Vinci Jr.'s PLA filament spools are a non-toxic, biodegradable plastic that is recyclable and safe for the environment! With its compact design, the da Vinci Jr. only consumes 75 watts of power. This eco-friendly 3D printer makes sure that nothing goes to waste.
The #1 3D Printer
for Homes and Schools
With its completely enclosed designed and non-heated print tray, the da Vinci Jr. 1.0 is built with your safety in mind. Kids, beginners, and Makers can all enjoy countless hours of 3D printing. The EZ-Offset Calibration makes it easy to get perfect prints every time, while the auto-feeding filament system and easy-to-install filament spools save you time on getting your first project started.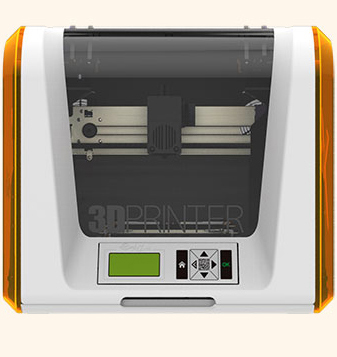 Comparison
| | | | |
| --- | --- | --- | --- |
| Brand | XYZprinting | M brand | 3D brand |
| Model Name | da Vinci Jr. 1.0 | Repl xx | Cube xx |
| Price | US$349 | US$1,375 | US$999 |
| Maximum Build Size(WxDxH) | 5.9 x 5.9 x 5.9 inches | 3.9 x 3.9 x 4.9 inches | 6 x 6 x 6 inches |
| Resolution | 100 microns | 200 microns | 70 microns |
| Enclosed | Yes | Yes | No |
| Print Bed Calibration | Not Required | Not Required | Not Required |
| Auto Loading Filament | Yes | No | Yes |
| Warranty | 180 days (One year if register within 30 days) | 180 days | 90 days |
| Email Support | Free | Pay | Free |
| Phone Support | Free | Pay | Free |
da Vinci 1.0
da Vinci 2.0 Duo
da Vinci Jr. 1.0
da Vinci 1.0 AiO

Weight and Dimensions (WxDxH)

Printer Dimensions(In)
18.4 x 22 x 20 inch
18.4 x 22 x 20 inch
16.54 x 16.93 x 14.96 inch
18.4 x 22 x 20 inch
Printer Weight(lbs)
55
60.6
26.4
58.3
Shipping Dimensions (ln)
22.1 x 27.6 x 23.3 inch
22.1 x 27.6 x 23.3 inch
21.53 x 22.87 x 18.7 inch
22.1 x 27.6 x 23.3 inch
Shipping Weight (lbs)
57
62.9
33.07
60.6

Connectivity

USB 2.0
V
V
V
V
SD card
V

Printer Properties

Maximum Build size
(W x D x H)
7.8x7.8x7.8 inches (20x20x20cm)
5.9x7.8x7.8 inches (15x20x20cm)
5.9x5.9x5.9 inches (15x15x15cm)
7.5x7.8x7.8 inches (19x20x20cm)
Resolution
100 – 400 Microns
Technology
Fused Filament Fabrication (FFF)
Filament
ABS & PLA
ABS & PLA
PLA
ABS & PLA

Software

File Types
.stl and XYZ Format(.3w)
.stl and XYZ Format(.3w)
.stl and XYZ Format(.3w)
.stl ,XYZ Format (.3w & das)
Language
Multi Language
Windows
WindowsXP(.Net 4.0 Required) / Windows 7 or above(for pc)
WindowsXP(.Net 4.0 Required) / Windows 7 or above(for pc)
Windows 7 or above(for PC)
WindowsXP(.Net 4.0 Required) / Windows 7 or above(for pc)
Mac OSX
Mac OSX 10.8 / 64-bit above(for Mac)
Mac OSX 10.8 / 64-bit above(for Mac)
MAC OSX 10.8 / 64-bit above(for Mac)
Mac OSX 10.8 / 64-bit above(for Mac)

Hardware

Scanner
V
Heated-print bed
V
V
V
Auto-loading
V
Calibration
Required
Required
Not Required
Required