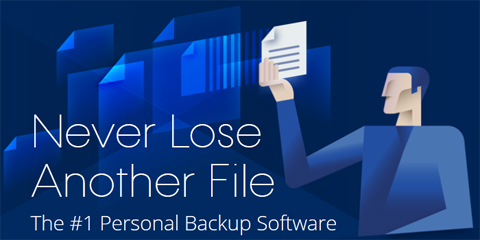 Acronis True Image, the most reliable, easy-to-use and secure personal backup software – and the only backup that actively defends your files against ransomware. More than 5.5 million customers worldwide rely on our technology.
You can back up everything: including operating systems, applications, settings, photos, videos, files, social media accounts from PCs, Macs, iOS and Android devices. Dual protection ensures your data is secured locally and in the cloud for quick recovery. Back up your full system to a local drive, NAS, or the cloud to return your computer to the exact state it was before any data was lost.
Backup
Flexible enough to fit any plan. More reliable than ever.

Full Image Backup
Protect everything to recover anything with an exact replica of your system disk or a selected partition. In the event of data loss, you can easily recover whatever you need – from your full system to an individual file or folder.

Active Disk Cloning
Migrate all of your PC's data – operating system, programs, settings, files, etc. – to a larger or faster disk. With Acronis True Image 2018, you can now clone an active Windows system to a local drive or external USB drive without stopping and restarting your system.

Active Ransomware Protection
Prevent ransomware from encrypting your files. Every edition of Acronis True Image comes with Acronis Active Protection 2.0, our artificial intelligence and machine learning-based technology that detects and stops ransomware, and automatically reverses its effects.

WinPE Media Builder
Easily create boot media so you can recover your system to the same or new hardware. Create a WinPE environment to quickly resolve driver configuration issues. Use the predetermined settings of Simple mode or customize your Media Builder preferences in Advanced mode.

Converts to Virtual Hard Drive
Test different programs and system settings, or run your system on a virtual machine by converting your full image backups into a virtual hard disk format. You can use all your programs and access files as normal within that virtual system, and you can run it without needing Acronis True Image 2018.

Backup Activity and Statistics
Manage backups at a glance with a new, visual interface. View the status of backups, file sizes, backup speeds, and number of versions of your backup. You'll even see color-coded displays of how many photos, videos, music and documents are available to restore.
Flexible Management
Schedule times, configure destinations, and select from full image, incremental, differential or custom backup types.
File and Folder Backups
Control your backup by selecting individual files and folders when you don't want a full image copy.
Universal Restore
Easily restore your current system to new hardware with our bootable media and driver injection technology.
Non-stop Local Backups
Keep working, playing or surfing: backups run in the background without affecting your computer's performance.
Security Dashboard
Monitor potential threats, identify blocked activity, and approve trusted applications so they run uninterrupted.
Monitor potential threats, identify blocked activity, and approve trusted applications so they run uninterrupted.
Create incremental and differential backups up to three times faster with technology that tracks image changes in real time.
End-to-End Encryption
Secure your backup using military-grade AES-256 encryption, whether your data is onsite, in transit, or in the cloud.
Try and Decide
Safely test new software, drivers, system updates, etc., knowing you can easily revert to your previous configuration.
Archiving
Free disk space by moving large or rarely used files to the cloud or a local drive, while retaining easy access.
Sync and Share
Sync files between computers or in the cloud, so you can have the same files on multiple devices.
Mobile Backup
Around the corner or around the world – you're covered

Protection on the Go
Safeguard all of the photos, videos, contacts, reminders, and calendar appointments on your smartphone or tablet to ensure you never lose them – even if your device is lost or stolen.

Unlimited Devices
Cover all of your family's smartphones and tablets with one account. You can protect their data and remotely manage the backup plan for each device using a single dashboard.

Local Wireless Backup
Create backups of your mobile device automatically and wirelessly over Wi-Fi to your PC, Mac and, new in Acronis True Image 2018, NAS device. Backup by simply coming home.

Restore Individual Files
Retrieve just the specific file you need without having to perform a complete recovery of your device's content.
Device Flexibility
Schedule times, configure destinations, and select from full image, incremental, differential or custom backup types.
Memory Card Backup
Protect the data stored on your Android's internal memory and SD storage cards to ensure nothing is lost.
Mobile Backup Review
Browse the contents of your mobile backups on the local PC or Mac on which you store the backup files.