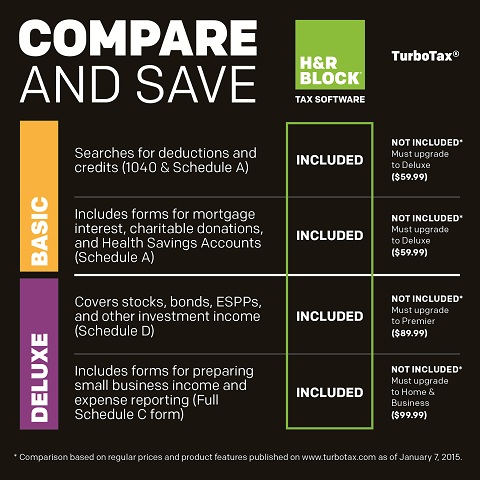 Perfect for homeowners
H&R Block 2014 Deluxe + State help maximize deductions for home mortgage interest and real estate taxes, and gives advice on tax planning, home ownership, and retirement planning.

Also perfect for investors
It offers extra help for accurate investment and dividend reporting, and in-depth assistance on stocks, bonds, and mutual funds. It also provides tax calculators to determine the approximate cost basis of investments and assets sold.

100% Accuracy Guaranteed
When it comes to filing your taxes, there's no margin for error with calculations, which is why H&R Block's calculations are so accurate.

Maximum Refund Guaranteed
Get the maximum refund. Get every penny you're due. And, no one can get your refund faster!
Worry-Free Audit Support
Being audited can feel intimidating. Only H&R Block helps you prepare for an audit and provides a Tax Professional to represent you in person — for free. The Tax Professionals will be there for you, even after you file.

Free Advice from an Expert
Have tax questions along the way? We're here to help! Reach out to an H&R Block tax expert so you can get free tax advice at any point along the way through real-time chat.