Coboc™ HS-10 high-speed HDMI cables offer 100MB, two-way HDMI connections to attach TVs, streaming devices and HD projectors to other equipment. Share Ethernet access between compatible equipment using these high-speed HDMI to HDMI cables with 10.2GHz bandwidth Ethernet connectivity.
One Cable for HD, SD and 3D
Choose the Coboc HS-10 high-speed HDMI cable for clear, sharp audio and video for SD and HD file formats. This Coboc HDMI cable can properly display 3D videos at resolutions of up to 1080p. With resolution support for 2K and 4K, you can enjoy clear video as well as Ethernet and audio signals to and from HDMI compatible devices. Connect TVs to sound systems, DVD and Blu-ray™ players and satellite cable boxes or streaming devices.
Coboc HDMI Cable for Extended Reach and Interference Reduction
The 10-ft length makes connecting entertainment system devices and other audiovisual equipment across greater distances easy. Added length also helps prevent wear and tear to HDMI female connectors by reducing potential strain. The shielding on the HDMI cable reduces interference like EMI and RFI, to prevent noisy or muddy data transmission. Shielding also helps reduce wear on the cable during device relocation and provides added protection to the cable's internal wires. Gold-plated HDMI cable connectors offer corrosion resistance and provide the best conductivity between HDMI devices. You can also share the Ethernet network from one device to another through the high-speed HDMI to HDMI cable.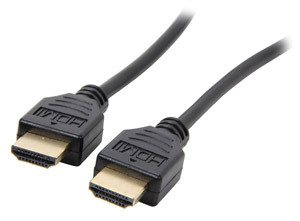 Coboc 10 ft. Gold Plated, High Speed HDMI to HDMI A/V Cable (Black)
The Coboc HS-10 HDMI cable allows you to broadcast quality digital video, digital audio, and intercomponent control signals all in one compact, high-performance connection. It supports multiple audio formats from stereo to multi-channel sound, as well as multiple video formats such as high-definition video and standard video. Use this cable to connect various high-definition devices, such as DVD Players, Satellite Boxes, LCD Projectors, Plasma TV and HDTV.

HDMI High Speed Compliant
The Coboc HDMI cable complies with the HDMI High Speed specification for up to 10.2Gbps speed to support high definition video and multi-channel surround sound transfer via a single cable. It supports 3D in full 1080p resolution and resolutions up to 4K/2K (3840/2160p).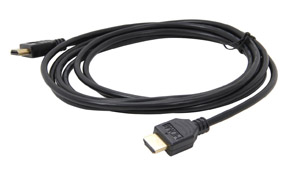 High-quality Signal Transfer
Fully HDCP compliance and gold plated connectors provide the highest level of signal quality. It is also shielded for maximum protection from RFI and EMI interface.
Audio Return Channel
The Audio Return Channel enables a TV, via a single HDMI cable, to send audio data "upstream" to an A/V receiver or surround audio controller. This increases user flexibility and eliminates the need for any separate S/PDIF audio connection.