Thanks to its high-performance connection, the Coboc™ HS-15 high-speed HDMI cable allows you to create your own home theater or to project a killer work presentation directly from your laptop. With gold-plated connectors and the HDMI high-speed specification, this product is ideal to enjoy a quality home video experience without interruptions. Thanks to its Ethernet connectivity capabilities, it allows you to make the most out of your high-tech devices.
High-Quality Video in Multiple Formats
The Coboc HDMI cable supports multiple video and audio formats, so you can use it for many different purposes, whether you are an avid gamer or a movie addict. The HDMI high-speed specification makes it possible to view HD videos at a maximum speed of 10.2Gbps, while the gold-plated connectors ensure the quality of the signal at all times. Authentic tech addicts will also be able to enjoy 3D content in full 1080p resolution. Plus, this HDMI cable supports photographic color standards, such as sYCC601, Adobe RGB and AdobeYCC601, for better compatibility with your digital camera.
No Extra Cables Needed With the Coboc HDMI Cable
The Audio Return Channel offers you multichannel surround sound without the need for a separate audio cable. Plus, the Ethernet connection allows a two-way 100Mbps connection between your compatible devices. In a single accessory, this Ethernet HDMI cable gives you all the features you need to enjoy the latest technologies in home video. No more messy cables in your living room.
Get the full benefit of your HD televisions, monitors and home entertainment equipment with the Coboc™ HS-25 high-speed HDMI cable. The dual male ends instantly connect to HDMI interfaces for fast and easy hookup. Get full-color saturation that meets professional photography standards to display images at their highest resolution for editing and viewing.
Content at Best Resolutions Possible With the Coboc HDMI Cable
The Coboc HDMI cable supports the high data transfer rates needed to support both HD resolution at 1080p as well as 4K resolution up to 3840/2160p. Like most HDMI cables, it sends both an audio and a video signal, so there's no need for a separate audio return cable, cleaning up clutter while enjoying a better entertainment experience. It also supports bidirectional bandwidth, providing full HD quality from on-demand videos from connected TVs or set-top boxes.
Coboc HDMI Cable Lets You Set Up Connected TV Devices Anywhere
As an additional convenience, this Ethernet HDMI cable is 25ft (7.6m) long, so your media setup is not limited by close proximity to your entertainment center. Extra shielding also cuts down on electromagnetic and radio wave interference to prevent hisses and skips. You can also use the male to male HDMI cable to set up other entertainment devices like game consoles and digital projectors.
The Coboc HS-15 HDMI cable allows you to broadcast quality digital video, digital audio, and intercomponent control signals all in one compact, high-performance connection. It supports multiple audio formats from stereo to multi-channel sound, as well as multiple video formats such as high-definition video and standard video.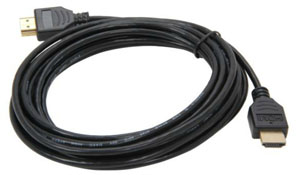 HDMI High Speed Compliant
The Coboc HDMI cable complies with the HDMI High Speed specification for up to 10.2Gbps speed to support high definition video and multi-channel surround sound transfer via a single cable. It also supports 3D in full 1080p resolution and resolutions up to 4K/2K (3840/2160p).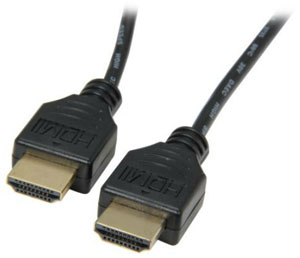 High Quality Signal Transfer
Fully HDCP compliance and gold plated connectors provide the highest level of signal quality. It is also shielded for maximum protection from RFI and EMI interferences.
Audio Return Channel
The Audio Return Channel enables a TV, via a single HDMI cable, to send audio data "upstream" to an A/V receiver or surround audio controller. This increases user flexibility and eliminates the need for any separate S/PDIF audio connection.