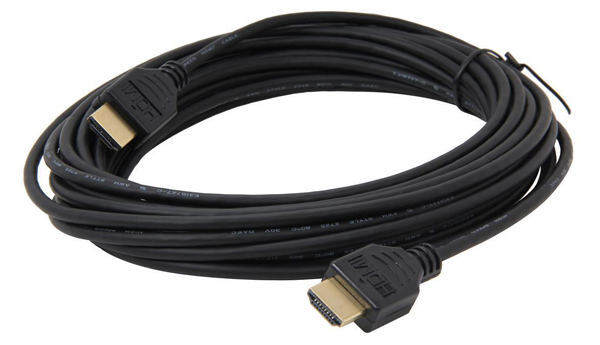 The Coboc HS-25 High Speed HDMI cable with Ethernet supports up to 3840x 2160P resolution and up to 32 audio channels. Advanced features like built-in Ethernet channel and Audio Return Channel (ARC) give you more convenience when building your home theater setup. This cable is manufactured with quality materials, and features strain relief at the plugs, and gold plated connectors. Trust this high-performance and durable HDMI cable when looking to top A/V experience with the 4K Blu-ray, next generation game consoles and more.
Supports 3D in full 1080p resolution.
Resolutions up to 4K/2K (3840/2160p).
Support photographic color standards including sYCC601, Adobe RGB and AdobeYCC601 for better compatibility with digital still cameras.
Built-in Ethernet Channel
An additional, dedicated data channel, known as the HDMI Ethernet Channel, is built in for device networking. Integrated with Ethernet capability, this cable connects compatible components at 100Mb/s bi-directional bandwidth. Thus you can network your home entertainment and share high-speed internet connections with consoles, Blu-ray players and more. HDMI Ethernet Channel functionality is only available if both linked devices are HDMI Ethernet Channel-enabled.

Audio Return Channel
The Audio Return Channel enables a TV, via a single HDMI cable, to send audio data "upstream" to an A/V receiver or surround audio controller, increasing user flexibility and eliminating the need for any separate S/PDIF audio connection.