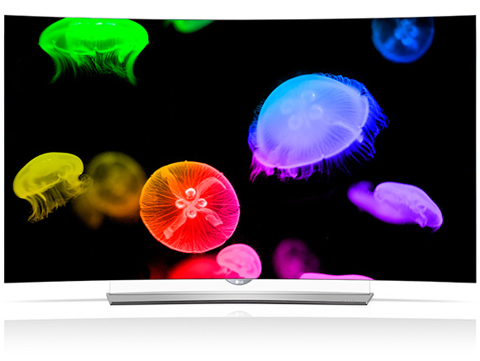 Curved OLED 4K Smart TV - 55" Class
(54.6" Diag)
Francis Ford Coppola

"OLED – there is nothing that can compare"

See what Academy Award® Winner Francis Ford Coppola thinks about LG OLED TVs.
What is OLED?
OLED TVs use a revolutionary technology with self-lighting pixels for vivid color and infinite contrast. Experts have said it offers the "Best. Picture. Ever."
---
Perfect Black
LG OLED TV pixels switch off completely to achieve perfect black for infinite contrast, and contrast ratio is considered the key indicator of picture quality.
Intense Color
LG OLED TVs display a wide gamut of accurate colors. And because colors look best against a pure black background, images are now more vibrant and detailed.
Wide Viewing Angle
LG OLED TVs incomparable picture quality holds up even from wide viewing angles so now everyone can appreciate the color and clarity of OLED from any seat.
Design
OLED technology enables a design that is ultra thin and light. It's supremely elegant, and as lovely on a tabletop as it is wall-mounted.
---
4K Picture Quality
Select LG OLED TVs offer 4K resolution with an incredible 8.3M pixels, four times that of Full HD. The result? Breathtaking clarity and fine picture details.
webOS 2.0
LG webOS TV is designed to be obviously simple, so that it is easier to learn and more fun to use. Now, all you have to do is relax as webOS 2.0 makes the TV experience simpler than before.
Netflix Recommended TV
Netflix Recommended TV is an evaluation program recognizing TVs that offer better performance, easier app access, and new features that make for a better smart TV. When you see the Netflix Recommended TV logo, it means the TV has passed rigorous evaluation process based on criteria that Netflix members care about the most.
Sound
LG OLED has some of the most advanced audio technologies to assure a completely captivating audio/video experience.
Immersive 3D
Experience a new dimension in immersive content with 3D lifelike detail that will surprise your eyes.