Black & Decker BWAC10WT Cooling Air Conditioner
Keep cool in hot summer with the energy star Black & Decker BWAC10WT widow air conditioner. It churns out 10,000 BTUs of cooling power to cool the house in no time. If you're only looking to circulate the air, a fan only function can take of that as well. With timer/clock function and sleep function, you can preset the window air conditioner to enjoy smart cooling. Two ways are offered to control it. You can use the remote control or the electronic panel with digital display.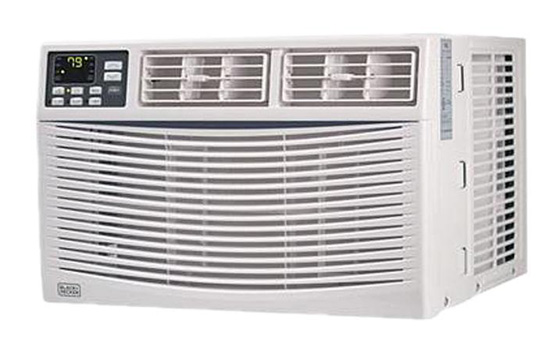 10,000 BTUs Cooling Capacity
With 10,000 BTUs cooling capacity, this window air conditioner cools your room quickly.
Three Cooling and Three Fan Speeds
The window air conditioner offers three cooling speeds and three fan speeds - high, medium and low, letting you control the temperature of your room at your pace.
Always the Right Temperature
Wide-range, adjustable thermostat control gets you to just the right temperature.
Digital Electronic Control Panel
The electronic control panel with a digital display lets you easily select options and display the set temperature.
Timer/Clock Function
Timer/Clock function lets you program when you want your unit to automatically turn on or shut off.
Sleep Function
Sleep function automatically adjusts temperature and fan speed to make the room just right at night.
Washable Air Filter
Enjoy fresh air every time. The air filter is removable and washable.
Energy Saving
Cool your room in a power efficient way. The window air conditioner is Energy Star certified.