The improvement of living standards has made smart electronic products integrated into your life.
Are you used to commanding Alexa to do things for you? Fire TV Cube to watch movies, Echo Show to recall life, Halo Rise to help sleep, Echo to play music and more.
Now owning the M18 2023 Upgraded projector will blend beautifully in your home with your smart home. Redefine your life.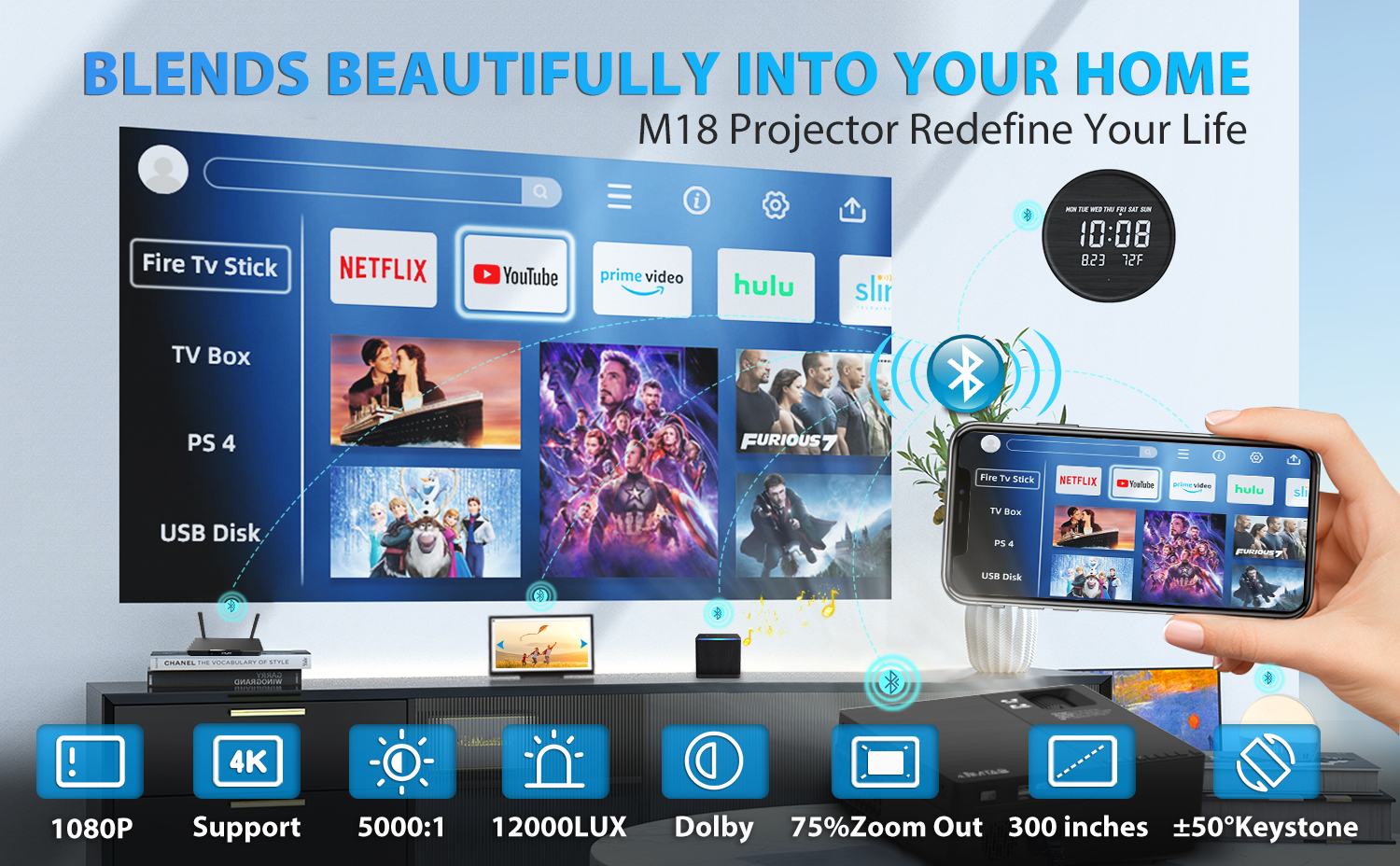 Maximum resolution: 1920*1080 (Support 4K HD)
Resolution support: 576i, 576p, 720i, 720p, 1080i, 1080p,4K
Firmware: Latest firmware (updated January 1, 2023)
Light source brightness: 4500 upgrade to 12000 lux (upgrade brightness after January 1, 2023)
Keystone correction: ±15° upgrade to ±50° (upgrade electronic keystone correction after October 1, 2022)
Bluetooth Audio Support: Built-in USB Bluetooth Transmitter
Sound Support: HD Dolby Stereo (AC-3/DTS)
Sound: 5w
The largest proportion: 5000:1
True color: 16777K
Projection distance: 5.5~30 feet (50 inches~300 inches)
Aspect Ratio: 16:9/4:3/auto
Video support format: AVI/MP4/MKV/FLV/MOV/RMVB/3GP/MPEG1/MPEG2/H.264/XVID
Audio support format: MP2/MP3/PCM/FLAC/WMA/AAC
Photo support format: BMP/JPG/JPEG/PGN/GIF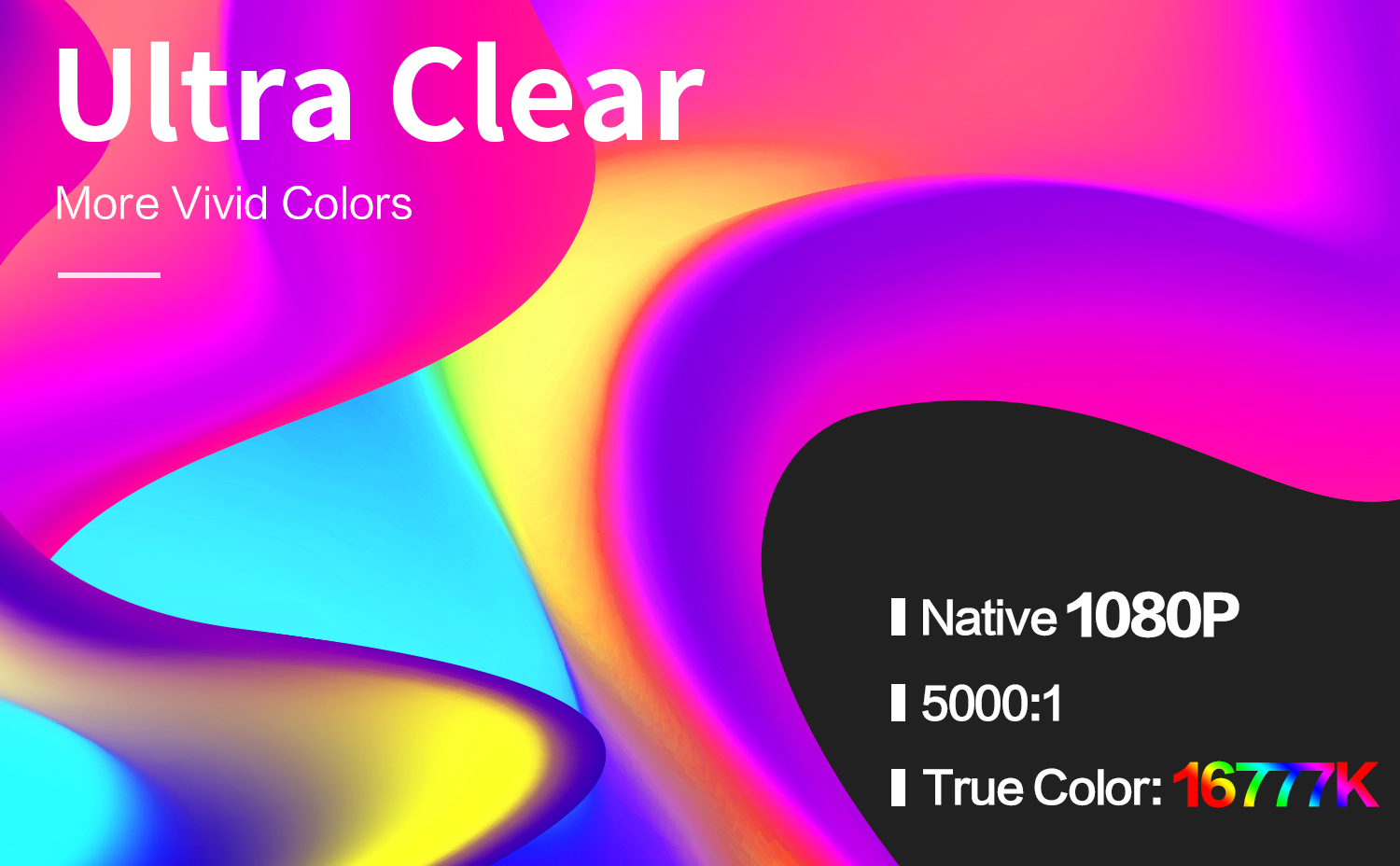 ULTRA Clear-MORE VIVID COLORS
The JIMTAB native 1080p projector has a true color of 16777k with a resolution of 1920*1080 and a maximum ratio of 5000:1.
It is completely capable of responding to your home theater, ps5 or Xbox games, and even large conference rooms. Let each audience clearly feel the visual feast.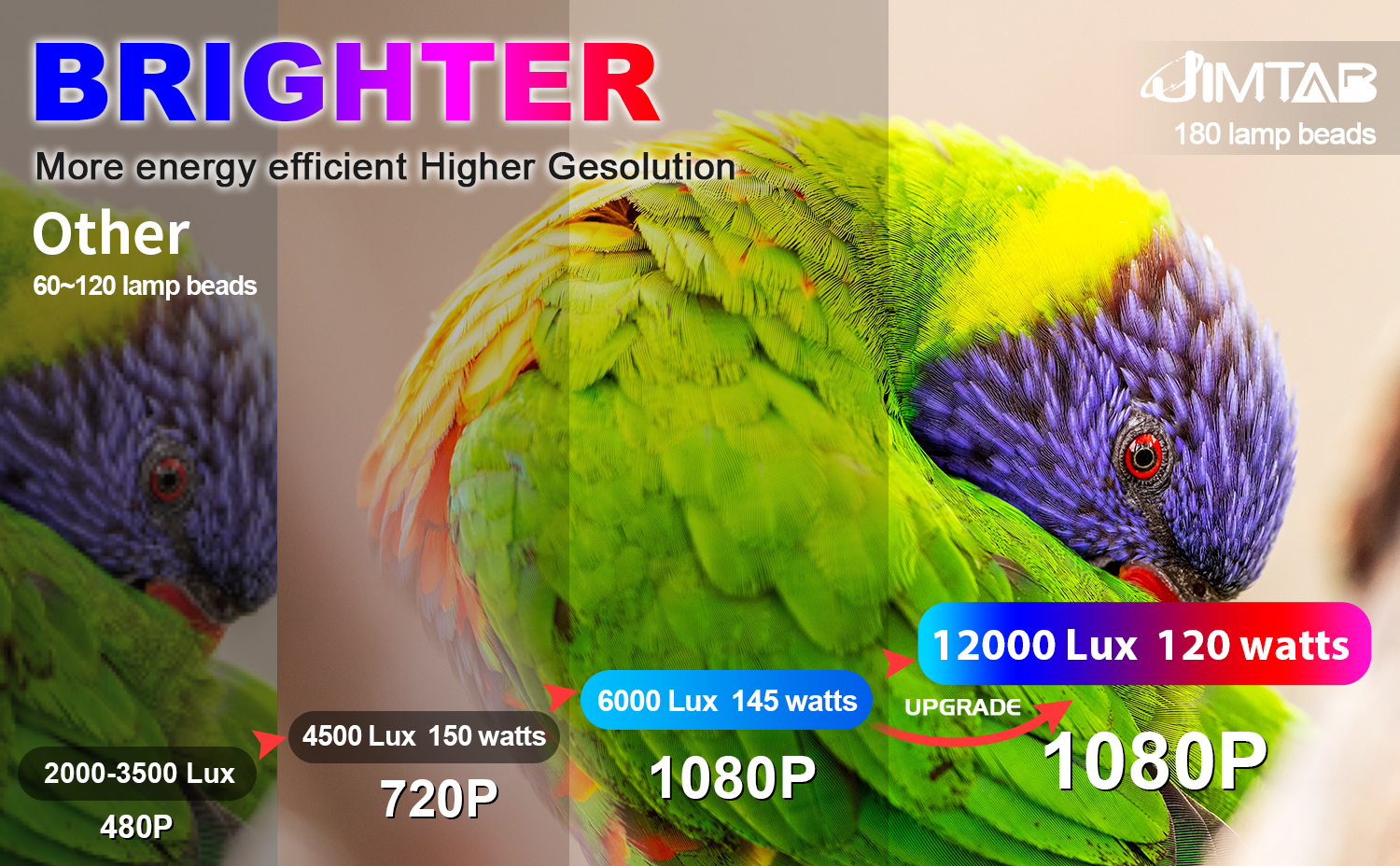 BRIGHTNESS AND MORE ENERGY EFFICIENT UPGRADE
2023. We upgraded the maximum light source brightness of JIMTAB M18 from 4500 lux to 6000 lux and then to 12000 lux. This will be a leap-forward increase in brightness in history. And the light source system uses 180 lamp beads, which is brighter and more beautiful. 720p projectors usually have only 2000~3000 lumens (only 60~120 lamp beads).
At the same time, we reduced the power consumption optimization from 145W to 120W. More energy efficient.
Whether you are in the indoor theater or outdoors, you can share more exciting and interesting theaters with your family.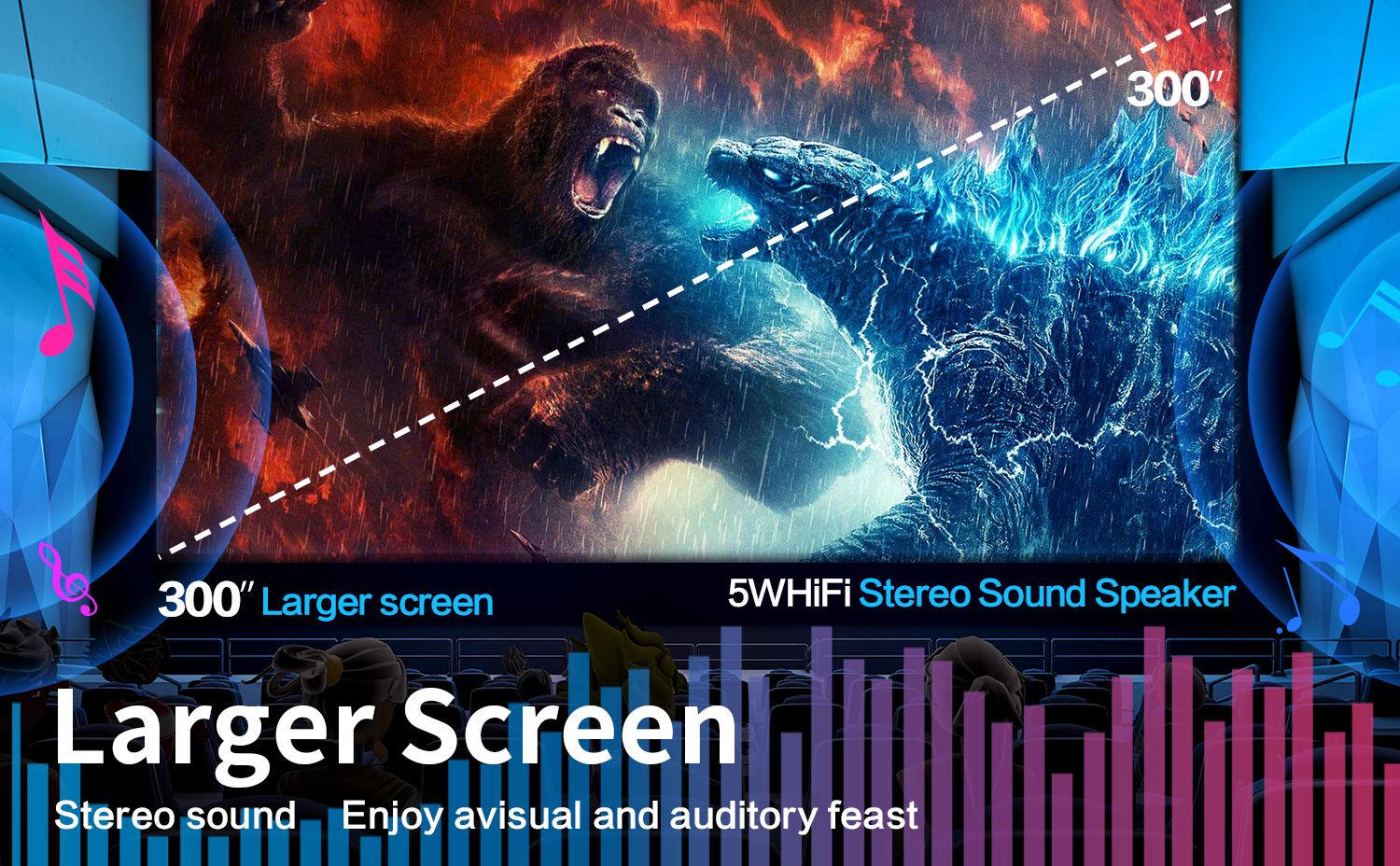 LARGER SCREEN STEREO SOUND-ENJOY A VISUAL AND AUDITORY FEAST
How often do you go to a 3D MAX movie theater? No, or once, twice?
Now you can sit on your home sofa and enjoy a high-definition movie with coffee and cola.
The JIMTAB 1080p projector allows you to place it on a 300-inch background, which can be a white screen in your yard or a white background wall in your living room.
With 5 watt stereo speaker, it supports Dolby sounds. and it will let you enjoy the visual and auditory feast with your family and friends.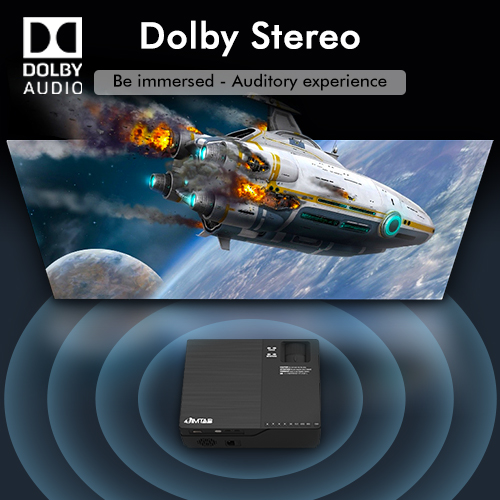 True Dolby Sound Experience
M18 supports Dolby function. Let you experience the stunning sound of Dolby 5.1 sound.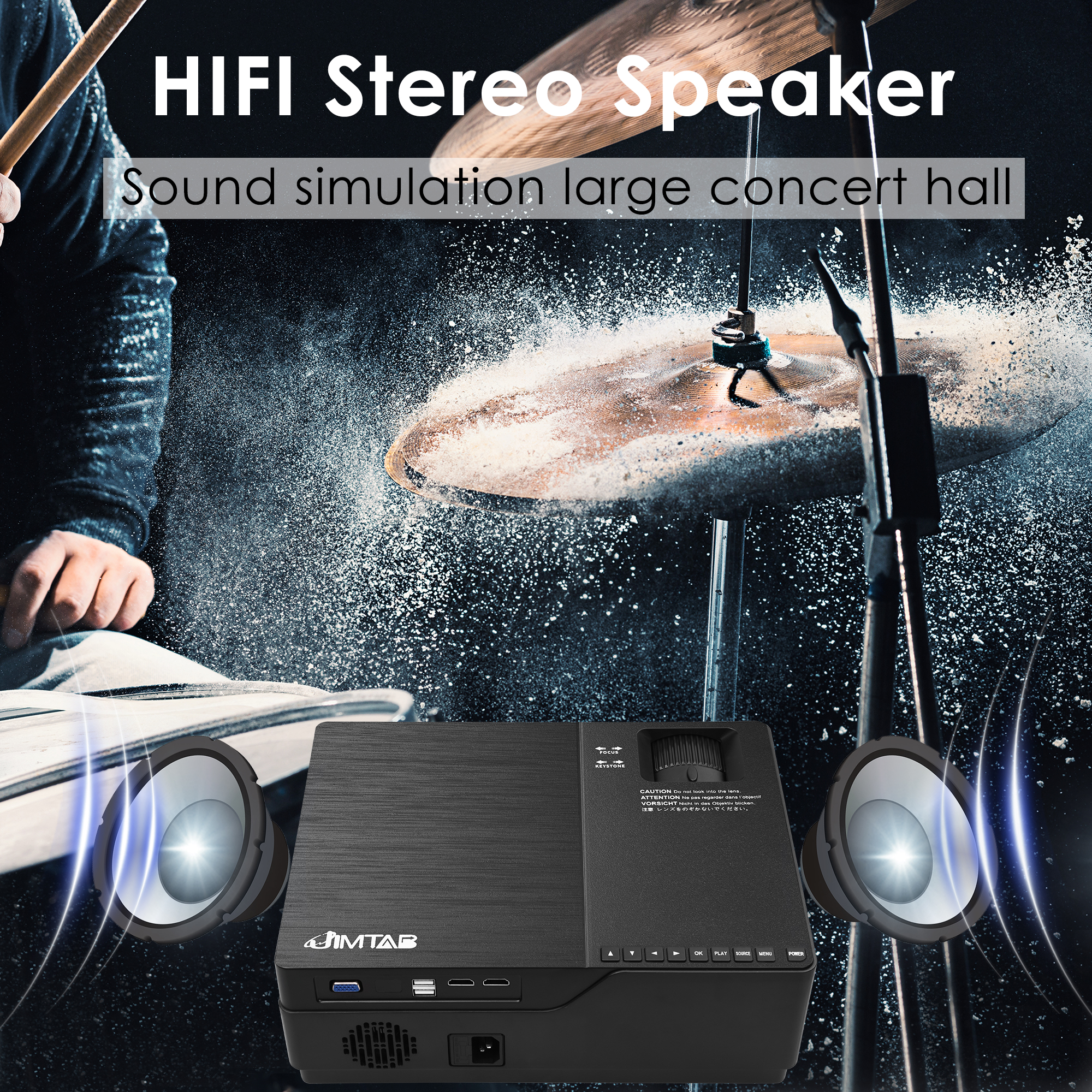 Sound Simulation Large Concert Hall
JIMTAB M18 Projector equipped with 5 watt stereo speaker analog 3D stereo sound.And support for Dolby sound to let you feel the immersive sound and enjoy the 3D listening feast.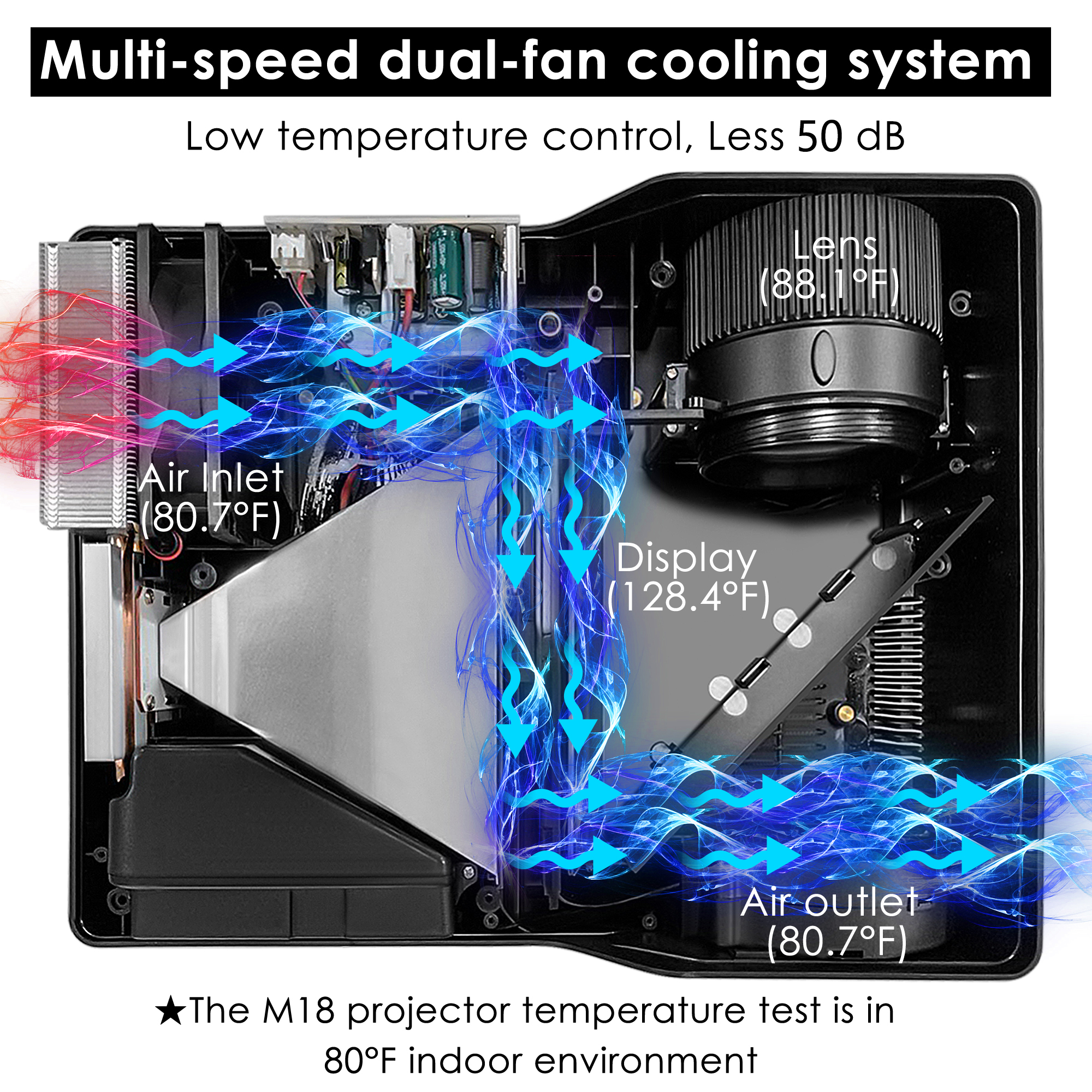 Upgraded Multi-speed Dual-fan Cooling System
A native1080P projector - The user is most concerned about durability. How long can it last?
Two high-speed fans, air inlet and outlet are respectively used at speeds of 2600RPM and 2300RPM. It ensures adequate heat removal.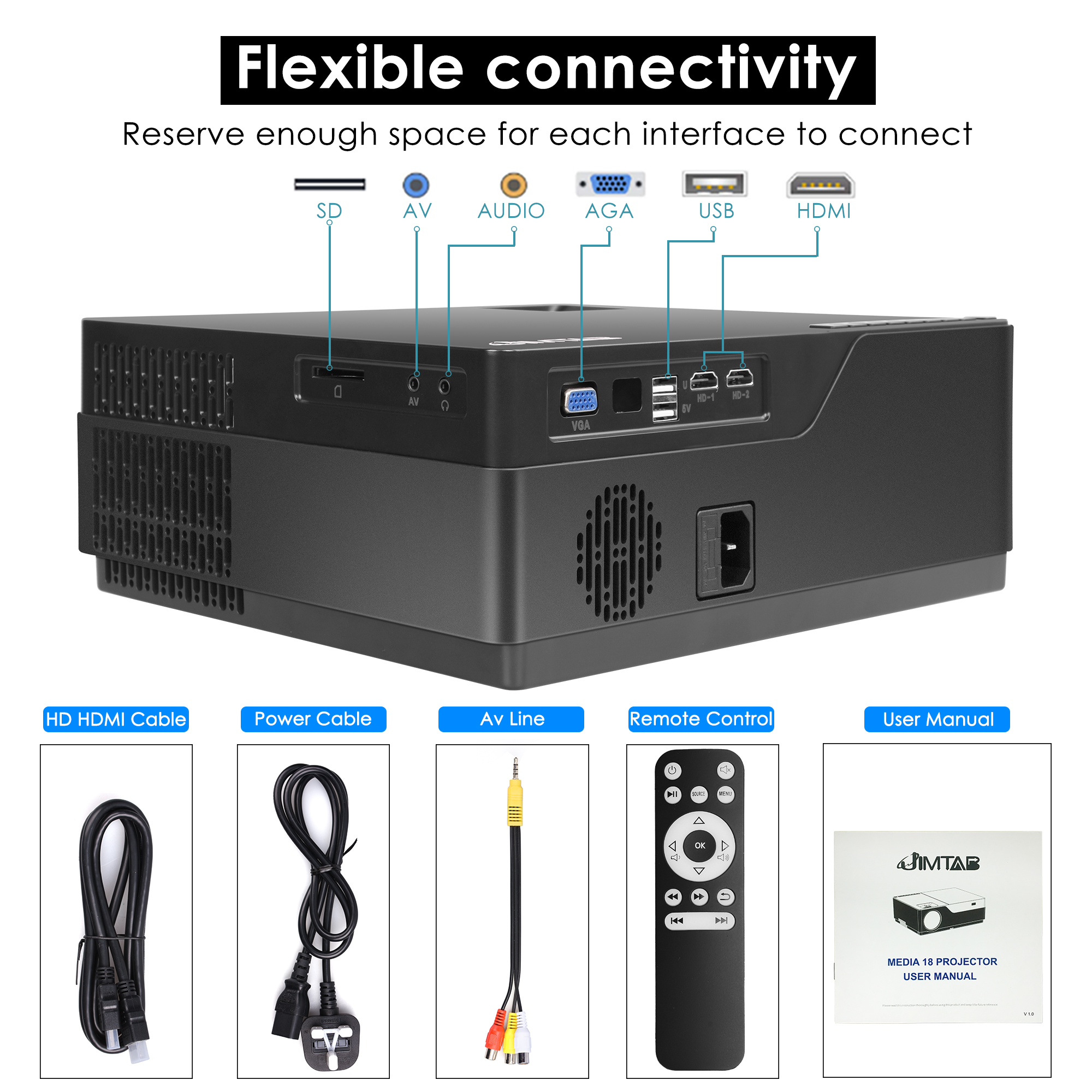 What's in the package?
JIMTAB 1080p projector * 1
USB Bluetooth Audio Transmitter * 1
HD HDMI 1.5M cable * 1
Power cable * 1
Av line * 1
Remote control * 1
User manual * 1