Barebone System Buying Guide
Table of contents
The barebone system is a brand new methodology in the building of the personal computer (server barebones are not covered in this guide) – it provides a pre-assembled combination of several basic components that a computer system must have, and leaves the ideal amount of room for the selection of important components that may be upgraded more frequently. With a barebone, the fun of DIY is kept intact, but the assembly process is made easier.

As mentioned above, the barebone system consists of several basic hardware components that a computer must feature. They include:

1. The chassis, which is the shell and skeleton of the computer system. The chassis provides space and the necessary retention brackets and equipment on the inside for the installation of hardware components.
2. The motherboard, which can be considered the backbone of the computer. All other hardware components or devices must be connected to the motherboard to function properly. The motherboard determines the CPUs and add-on devices the system can support and is therefore a crucial choice when selecting a barebone system.
3. The third component is the power supply, which provides power to the computer system and its components. Most components and devices installed in a computer system receive power directly from the power supply.

The majority of barebones consists of all three components, and may sometimes offer more, e.g. the CD/DVD ROM optical drive and/or the CPU cooler. All components inside a barebone system are preinstalled with all the necessary cables connected. The image below shows the internal architecture of a typical barebone.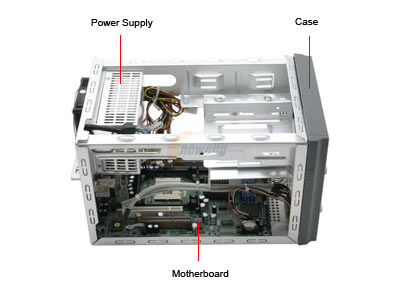 Inside a barebone
The barebone is unable to run as-is as it is only a partially finished computer system. After you have purchased a barebone system, you need to complete it by choosing and then installing the other components it requires. The following table lists the key components that require a DIYer's attention.



Note:
1. A few barebones may pre-install or embed the CPU onto the motherboard.
2. Most barebones feature integrated onboard video. You may choose not to install a discrete video card if you are satisfied with the onboard solution.

A barebone system installed with the key hardware components listed above is a functional one. Barebone users have the option of installing more components to enrich the functionality of the final product. Examples include adding an optical disc drive to read or burn CD/DVDs and a TV tuner card to receive TV programs. With a barebone system, it's completely up to you!

Many users enjoy having their computers look as pleasant and appealing to the eye as possible. Featuring stylishly designed exteriors, barebones are offered in different shapes and sizes to meet a variety of requirements, be it expandability or the need to fit in with the rest of the living room.

Barebones can be grouped under the following styles:

Tower Barebones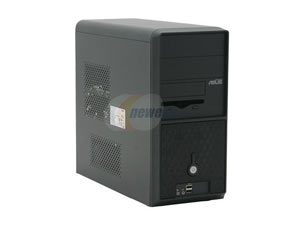 Looking much like the classic desktop computer, the tower barebone provides a relatively large amount of space inside for strong expandability and cooling.

Booksize Barebones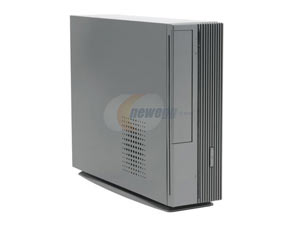 Booksize barebones impress for their slim proportions. They often feature compact internal architectures, which require the motherboard and the power supply to be of a certain design. Despite this, booksize barebones are compatible with most hardware components and devices.

Mini Cube Barebones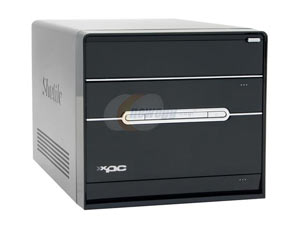 Featuring sound, well thought-out internal layouts, mini cube barebones can, despite being only half as tall as tower barebones (or even less), provide a satisfying amount of room on the inside for good expandability. This desirable characteristic has allowed the mini cube barebone to become more and more popular among the DIY crowd.

The current trend is for smaller barebone systems that blend in well with other home electronic devices. Some barebones provide buttons and screens on the front end for operating system-free audio and video functions (this means that the user does not have to enter the computer operating system for basic CD or DVD playback). This type of functionality has helped to redefine the computer as the centerpiece of the total home entertainment solution.

Barebone Specifications and Features
Depending on the combination of the case, motherboard and power supply (as well as the other components and devices), there is practically no limit to the variety of barebone products available. Although it may seem like a challenge, finding the right product is not difficult at all – all it takes is an understanding of the specifications and features. Narrowing down should be quite easy afterwards.

CPU Support
Barebone motherboards usually provide one CPU installation socket. A very limited number of barebones support dual CPUs. In addition, the CPU socket roughly determines the type of CPUs that can be installed in the system. When it comes to the actual CPU frequencies and cores supported, look to the motherboard chipset as the key determining factor.

This table shows the relationship between mainstream desktop CPUs and sockets. For example, if you wish to install a Pentium D CPU, please select a barebone system featuring a Socket LGA 775 motherboard.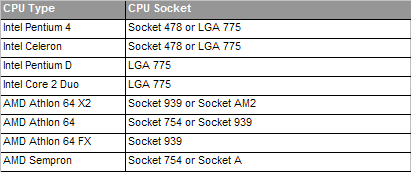 The majority of barebones support desktop CPUs, but there are other barebones that are built to support mobile CPUs (e.g. Intel Pentium M). There are also a few barebones that come with the CPU already embedded (e.g. barebones featuring the VIA C3 CPU). This limits the expandability of the system, but also reduces the amount of research that needs to be done.

If you require more information regarding CPU selection, please refer to our CPU Buying Guide and its related articles.

The Motherboard Chipset
The chipset is the core component of a motherboard, and the CPU support, graphics support (AGP or PCI Express), major I/O device support and expansion (add-in) card support all depend on the chipset. Since the motherboard is offered as a stock component in the barebone, when building a barebone, first choose the CPU, then find a barebone with a motherboard chipset that will support the CPU.

The term "chipset" (sometimes called core logic) often refers to the two main chips on the motherboard: the Northbridge and the Southbridge (some vendors name their products differently, i.e. NVIDIA calls it either SPP or IGP or MCP, and Intel calls it (G)MCH/ICH). The Northbridge and Southbridge may also be combined into a single chip. This is called single-chip design.

The Northbridge often refers to the chip that handles communications between the CPU, memory, AGP or PCI Express and the Southbridge. The Northbridge often includes the memory controller (the Northbridges supporting contemporary AMD CPUs are exceptions, as such CPUs integrate the memory controller). Some models will also contain an integrated graphics unit.

The Southbridge provides connections to I/O devices, such as the PCI bus, USB, PATA, SATA and PCI Express devices. Other Southbridge functions include interrupt controller, real time clock, power management (ACPI and APM), SMBus and so on. Southbridge chips are usually connected to Northbridge chips.

For more information on Intel and AMD platform chipsets, please refer to the following:
Intel Compatible Desktop Chipset Guide
AMD Compatible Desktop Chipset Guide


Memory Support
Barebones require the installation of memory modules to function properly. As a rule of thumb, more memory will allow more programs to be run simultaneously without system slowdown. Currently both DDR (Double Data Rate) and DDR 2 memory are used in barebone systems.

DDR memory is widely used in Intel and AMD supporting barebones. Although DDR 200, DDR 266, DDR 333 and DDR 400 are all supported, DDR 400 is currently the mainstream choice.

DDR 2 memory is very popular in barebones supporting Intel CPUs. There are currently DDR2 400, DDR2 533, DDR2 667 and even faster modules. Since AMD's new AM2 platform will also support DDR2, we can expect new barebones supporting both AMD CPU and DDR 2 memory to appear shortly.

Memory slots in barebones are often offered in pair(s), (e.g. 2 slots or 4 slots). This is because most barebones support dual channel memory mode, which can be enabled by installing one or two pairs of identical memory modules. In barebones that do not support dual channel mode, memory slots are provided purely for expansion of memory capacity.

Please refer to the System Memory Buying Guide for more information regarding system memory.

Hard Drive and CD/DVD Optical Drive Support
Internal hard drives (HDD) are currently built using either the SATA or PATA interface, which are used to connect and transfer data between a hard drive (or CD/DVD drive) and the motherboard in a computer system.

ATA is the acronym for Advanced Technology Attachment. It has been an industry standard hard drive interface for 15 years. ATA uses a 16-bit parallel connection to make the link between storage devices and motherboards, and is also called PATA to distinguish it from the newer SATA standard. In additional, PATA is also known as IDE or EIDE (Enhanced Integrated Drive Electronics).

Currently the two most popular standards for ATA hard drives are the ATA-6 (which is also known as Ultra ATA 100 or Ultra DMA 100) and ATA 133. The maximum bandwidth for the former is 100MB/s, and 133 MB/s for the latter. Most of today's optical drives utilize the IDE/PATA interface.

The newer SATA interface is also an industry standard for connecting hard drives to computer systems, and is based on serial signaling technology. The advantages over PATA include longer, thinner cables for more efficient airflow inside a computer chassis, fewer pin conductors for reduced electromagnetic interference, and lower signal voltage to minimize noise margin. SATA also offers improved bandwidth over PATA - the SATA 1.0 can reach a maximum of 1.5Gb/s (150MB/s), while the latest SATA 2.5 standard can support up to 3Gb/s (300MB/s). The latter also sports additional features such as NCQ (Native Command Queuing), port multiplier and port selector, although certain non-SATA 2.5 devices may also provide some of these features. As a result of so many advantages, the SATA interface is gradually replacing PATA as the mainstream hard drive interface in the personal storage market.

As SATA is designed as a replacement for PATA, most barebones will offer more than one SATA port. However, the PATA ports are also provided in the barebones for compatibility with the majority of CD/DVD drives and hard drives that still feature the PATA interface.

Please keep in mind that one PATA port can support up to 2 PATA devices, while one SATA port will only allow one SATA device to be connected.

Our Internal Hard Drive Buying Guide provides more information about internal hard drives.

Onboard Devices
Video cards, audio cards and Ethernet cards are all used in today's computer systems to provide graphics, sound and Internet connectivity. Most barebones featureintegrated graphics cores, audio codecs and network chipsets directly on the motherboard (called onboard video, onboard audio and onboard LAN respectively). If any of these features is not integrated on the motherboard of the barebone, you will need to either find a barebone that does have them, or install the corresponding add-on card separately. The motherboard's expansion slots (section below) will allow you to do that.

Expansion Slots
There are two types of expansion slot on a barebone motherboard:
1. Video card expansion slots
2. Add-on card expansion slots

Please note that the type and number of expansion slots offered on a motherboard is governed by the chipset. Depending on the barebone model, there may or may not be any expansion slots offered at all. For example, a barebone featuring onboard video may or may not provide an AGP 8X or PCI Express x16 slot.

AGP 8X and PCI Express x16 are bus interface standards specifically designed for the installation of video cards. The AGP 8X slot offers a maximum of 2GB/s bandwidth, while the PCI Express slot supports a total of 8GB/s bi-directional bandwidth. Although the AGP 8X slot is still widely used in barebones, there is growing attention for barebones featuring the PCI Express x16 slot.

For other add-on cards, the PCI slot is still the mainstream in almost all barebones as the maximum bandwidth it supports still meets the requirements of most add-on cards. Some barebones have begun providing the PCI Express x1 slot for add-on cards with higher bandwidth requirements, e.g. a Gigabit Ethernet adapter.


Input and Output Ports
Most input and output ports can be found on the back IO panel of the barebone. They include, for example, the PS/2 mouse and keyboard, USB, LAN, D-Sub, Line in, Line out, MIC in and IEEE 1394 ports.

For user-friendliness, many barebones also offer frequently used ports on the front panel, such as USB, Line out, IEEE 1394 and MIC in. All ports are connected with the motherboard and require no extra work. Please note, the type and quantity of the ports vary depending on the barebone products.

Extension Bays
Extension bays are the areas inside the barebone reserved for the installation of hard drives, CD/DVD drives, and floppy drives. Devices and bays are broken down into:
You may install any device in any of the bays, as long they correspond in terms of size. For example, a multifunction front panel card reader can be installed in one of the 5.25" external bays. The number of extension bays is one of the factors that affect the expandability of a barebone system,

Power
As mentioned before, the power supply is often offered as a pre-installed device in a barebone system. The stock power supply typically provides power sufficient for the barebone itself and components and devices installed during the building phase. However, it is important to check the specs or confirm with the barebone manufacturer, if you plan on installing power-hungry components or devices, such as an extremely fast CPU or video card.
Considerations to Make When Selecting Your Barebone
We can build completely different computers by installing different components and devices into a barebone. Therefore, whether or not a barebone system is right for you is determined by its ability to support all the components and devices you require. Here are some recommendations on finding that perfect barebone system.

Key Consideration - CPU
It is extremely important that you decide the CPU you will use before all else. Using the CPU type, socket, and core information, you may then be able to find barebones featuring the corresponding CPU socket and chipset. Most barebones will highlight the CPU support information in the specification list, allowing you to confirm easily whether a barebone can support your favorite CPU. In this way, you will find many suitable barebones on Newegg, and the followings are the recommendations to narrow down the selections.


Other Important Considerations

Memory: When it comes to memory, please consider the memory type (i.e. DDR or DDR2), data rate (i.e. DDR 200/266/333/400 or DDR2 400/533/667), memory channel mode (single or dual channel), number of memory modules, and memory capacity.

Generally speaking, it is the Northbridge chipset of a motherboard that determines memory support. Therefore, it is important to choose a barebone with a motherboard that features the chipset supporting your favorite memory configurations.

For CPUs featuring integrated memory controllers (e.g. AMD Socket 939 CPUs), the memory type and memory channel mode are decided by the CPU – just choose a barebone supporting the CPU you have chosen.

Graphics: The first issue to consider is whether to use onboard video or a discrete/add-on video card, which typically provides much better 3D performance.

If you want to use the onboard video, then you need to find a barebone with a motherboard featuring onboard video. If you want to use a discrete video card, then the search moves to finding barebones that offer the proper expansion slots (i.e. AGP 8X or PCI Express x16, depending on your choice of video card). Barebones featuring onboard video may also provide a video card expansion slot for future upgrades.

Storage Device: The interface type (i.e. ATA 100 or 133 or SATA 150 or 300) of the storage device and the number of ports are the two key factors to consider when selecting a barebone system.

Furthermore, please keep in mind the extension bay quantity inside a barebone, because this determines the number and type of the storage devices that can be installed in.

Add-on Cards: If you are planning on installing add-on cards (e.g. a TV tuner card), please take into account whether or not a barebone can provide the proper expansion slots (i.e. PCI and PCI Express x1), and how many expansion slots it offers. A larger number of expansion slots mean greater expandability. However, please note that the limited proportions of the barebone often mean that expandability is limited to one or two slots.

Front/Back Panel Ports: The majority of barebone systems offer a sufficient number of input and output ports, either on the back or front panel to allow for the connection of peripheral devices, such as a mouse, keyboard, printer, speakers, monitor, and USB peripherals. Please make your choice based on the peripheral devices you plan on using.

Other things to consider:
Almost all barebones feature onboard Audio and LAN, so attention is not exactly required. However, if you are not satisfied with the onboard solutions presented, you have the option of adding better sound cards or Ethernet adapters.

The appearance of the barebone exterior is definitely something to consider, especially if the barebone will be placed among home electronic devices. It is very satisfying to find a barebone system that not only takes care of your requirements, but your own sense of style too!
Buy Barebone PCs at NeweggBusiness