A wireless router connects your personal LAN (local area network) to the Internet (WAN, or Wide Area Network) and wireless-ready computers (desktops, notebooks and PDAs) to the network to enable sharing of the Internet, files or even printers in the local network.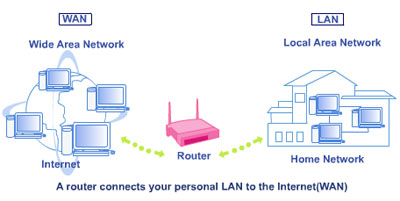 What helps to set wireless routers apart from one another are the device form factors and the supported wireless network transfer standards (or the supported data transfer rates). Network transfer standards regulate the speed at which computers in the network can communicate and share information with each other. For wired networks, the most common transfer standards adopted are 100Mbps and 1000Mbps; while for wireless networks 11Mbps and 54Mbps are the most popular.
Different wireless network standards support different maximum network speeds:
802.11a

802.11a is an IEEE wireless networking standard that specifies a maximum data transfer rate of 54Mbps and an operating frequency of 5GHz.

802.11b

802.11b is an IEEE wireless networking standard that specifies a maximum data transfer rate of 11Mbps and an operating frequency of 2.4GHz.

802.11g

802.11g is an IEEE wireless networking standard that specifies a maximum data transfer rate of 54Mbps and an operating frequency of 2.4GHz. 802.11g is backwards compatible with 802.11b. Some wireless products come with the extended 802.11g standard called super G/G+ (different manufacturers may call it something else) capable of offering transfer rates of 108Mbps, 125Mbps or even higher.

802.11n

The next generation of high-speed wireless networking standard, the draft 802.11n standard specifies a maximum data transfer rate of up to 540Mbps. It is built on the basis of previous 802.11 standards with the addition of MIMO (multiple-input multiple-output) technology. It is required to be backward compatible and interoperable with 802.11b/g devices. The final 802.11n specification is expected to be approved in 2007 so that contemporary 802.11n-supporting products can provide different maximum data transfer rates (e.g. 270Mbps, 300Mbps) .
The maximum wireless data transfer rate of a wireless router will only be realized with the support of the client network device (wireless network adapter). This means that a transfer rate of 54Mbps (for example) will be realized only if both the router and the network adapter support the 802.11g standard. For more information about wireless network adapters, please see our Wireless Adapters Buying Guide.

Security protocols
Security is a vital concern for wireless network users. Wireless network security protocols may be capable of safeguarding data and preventing it from being used without authorization when it is transferred across a wireless network. Here are the most popular security protocols:
WEP

WEP (Wired Equivalent Privacy) is a security protocol for wireless networks. It aims to protect data via encryption over radio waves using point-to-point transmission. A shared key (similar to a password) is used to allow communication between the wireless adapter and the wireless AP/router. It does not protect users on the same network from each other, however.

WPA

WPA (Wi-Fi Protected Access) is built on the foundation of WEP. WPA also protects wireless data transmission via a key similar to WEP, but the added strength of WPA is in its automatic encryption key changes making it much more difficult for a hacker to invade a wireless network.

WPA2

As the successor to WPA, WPA2 (Wi-Fi Protected Access 2) is offered to users requiring the highest level of wireless security and is capable of offering a stronger encryption mechanism over WPA via AES (Advanced Encryption Standard).
Like data transfer rates, wireless security protocols require the support of both the wireless network adapter and the wireless network AP/router, meaning that protection via the wireless security protocol will not take effect if either of the two does not support it.
Antenna
Like any wireless device, the wireless router requires the help of an antenna to communicate with a wireless network. There are two types of antennas applied to wireless routers: external and internal. A wireless router with an external antenna sends and receives wireless signals at a higher level of signal performance than a wireless router that does not. Internal antennas have broad applications in ultra-slim/portable wireless routers, some of which also provide external antenna ports that allow users to install external antennas for improved signal performance.
Connection Ports
A router has at least one WAN port and one LAN port. The WAN port is used to connect the router to the WAN (in most cases the Internet) via a Cable/DSL modem (or other Internet connection method), and the LAN port is used to provide computers with access to the Internet and the local area network.
Generally a 10/100Mbps WAN port is sufficient for most home and business users. Only if a router needs to be connected to a high-level 1000Mbps network is a 10/100/1000Mbps WAN port needed. Like the WAN port, a 10/100Mbps LAN port is typically sufficient for most home use.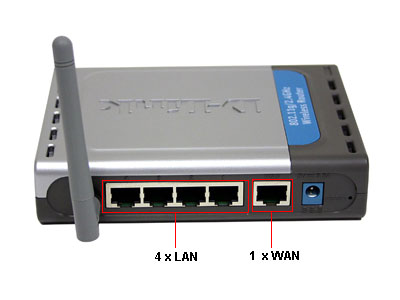 Most wireless routers come with a 4-port switch (4 LAN ports) allowing you to connect 4 wired network clients. To increase the number of computers that will be able to access the network, simply connect a switch to the one of the router's LAN ports.
VPN
VPN is short for Virtual Private Network. It is used to secure the actual transmission of data from one specific location to location over the network (in most cases the Internet). Only authorized users are able to access the network so that the data cannot be intercepted.
Most wireless routers support the VPN pass-through function allowing VPN clients to connect to the VPN server/network via the LAN setup through the wireless router. Only a few enterprise wireless routers support the VPN dial-in service (serves as the VPN server), and are generally known as VPN wireless routers.
Wireless Router and Adapter Combos
Some retail packages contain both a wireless adapter and a wireless router that support the same wireless transfer standard. These combination models are generally less costly than purchasing a wireless router and a wireless adapter separately.