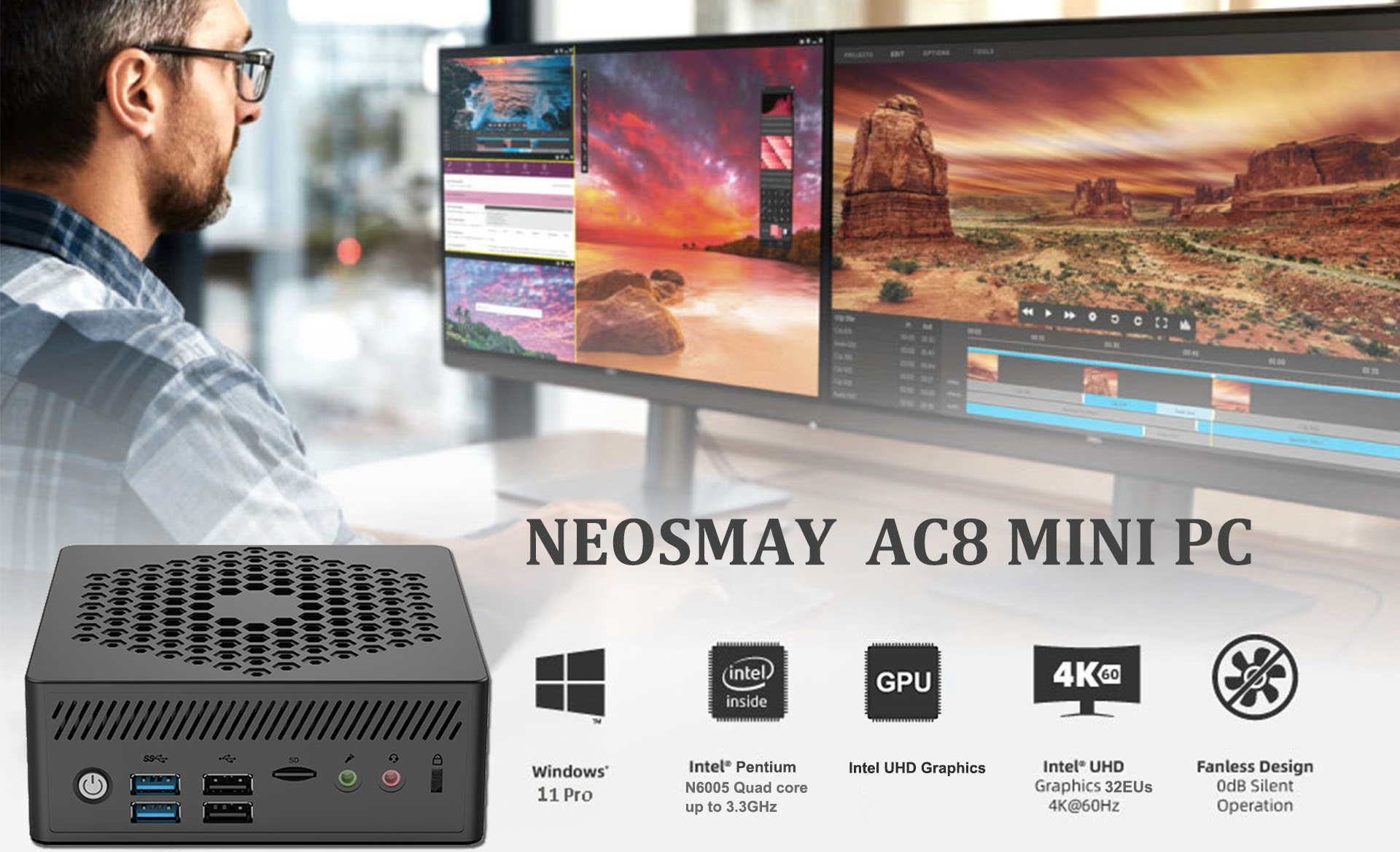 Why Choose NEOSMAY Mini PC?
1.Newest Design: Smaller!!! As big as palm-size. Compact in size, you can take it anywhere you go.
2.Professional: NEOSMAY mini computer is designed for the business office. Compatible with professional working software.
3.Cost-effective: Built-in Gen 11th N6005 (2.0GHz up to 3.3GHz) CPU, Which supports DDR4 dual-channel, enjoying the extremely fast speed. Equipped with UHD Graphics, HDMI, VGA and DP allow you to connect three monitors and multi-tasking.
4.One-to-One Service : Support pre-sales and after-sales, with dedicated engineers and website to meet the needs of timely interaction.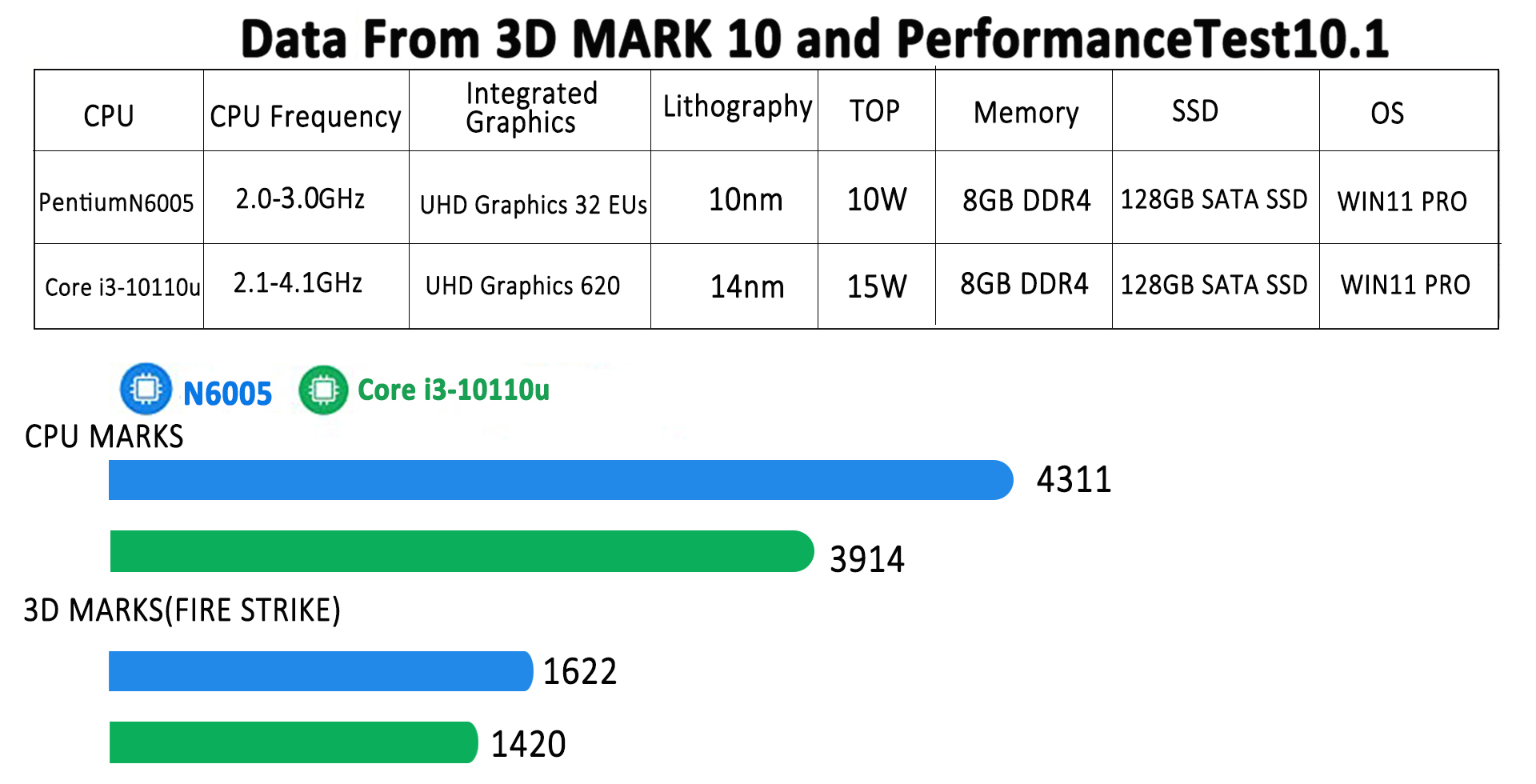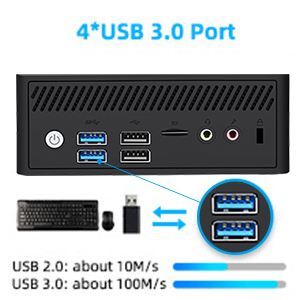 Faster transmission
AC8 mini pc has 4 USB 3.0 ports. The transfer speed is 10 times faster than that of USB 2.0, so it's easy for you to transfer large capacity files in a short time, thus reduce the energy consumption.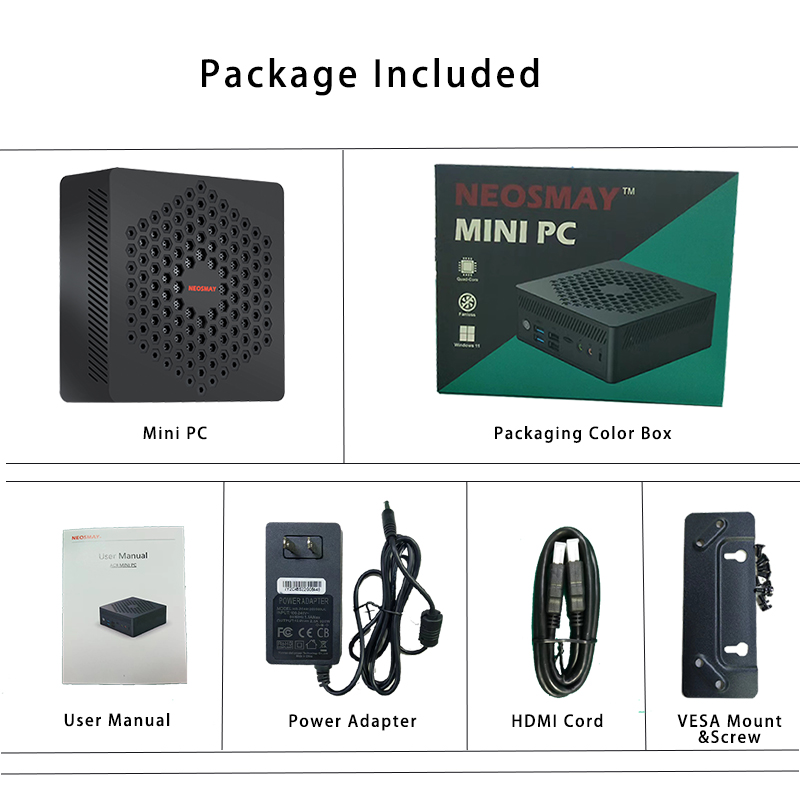 Mini PC Package Included
mini pc *1
power adapter *1
HDMI cord *1
mounting bracket *1
user manual *1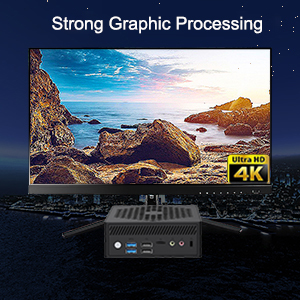 Ultra 4K@60Hz HD display Output
UHD Graphics for ultra 4K 4096*2360px@60Hz display output, realistic display quality will bring you a stunning visual experience.
Easy to fix and save space
We also provide you with VESA bracket, so you can put the mini pc behind the screen, the all-in-one style can not only make your desktop more beautiful, but also save a lot of space.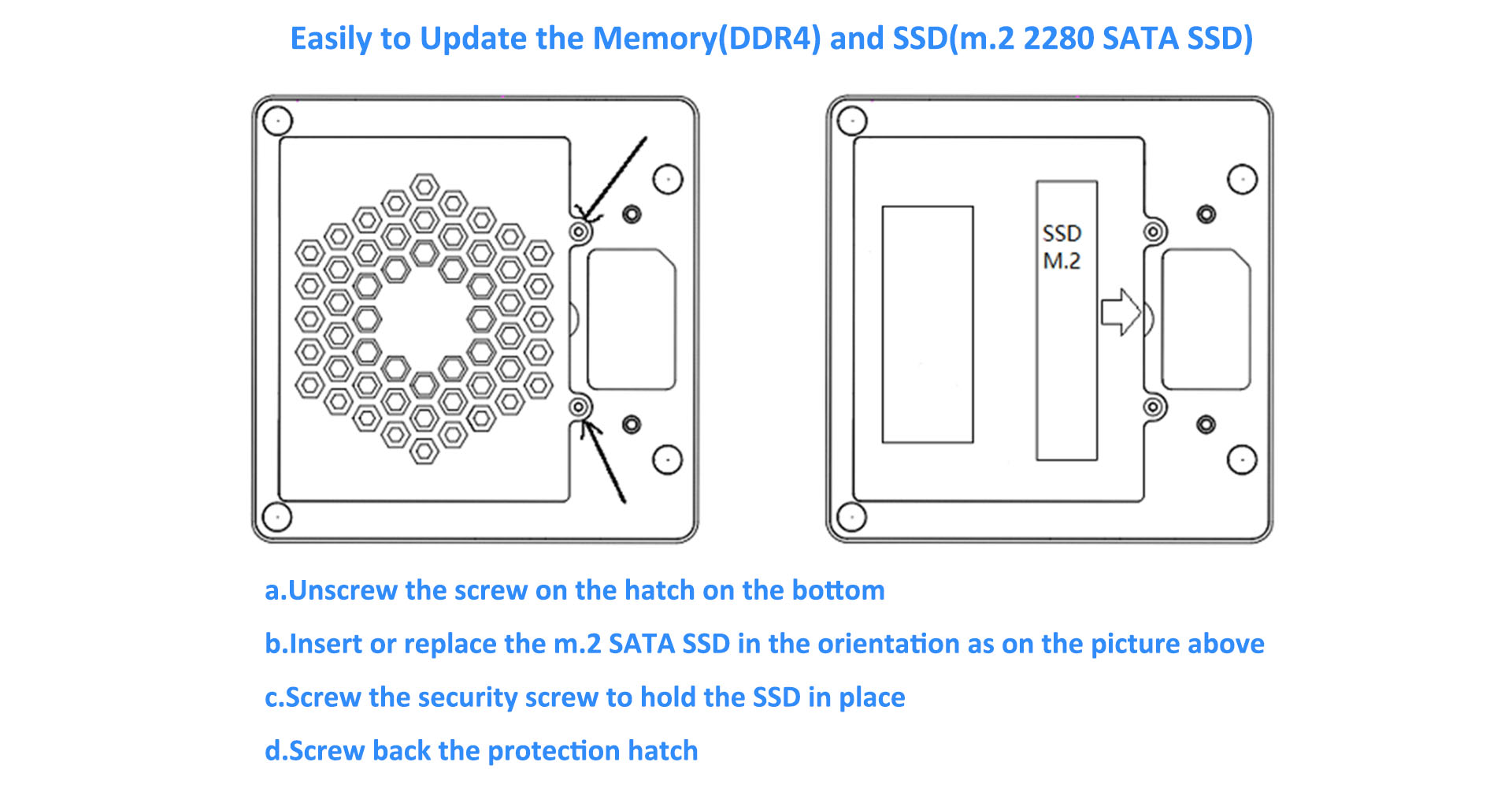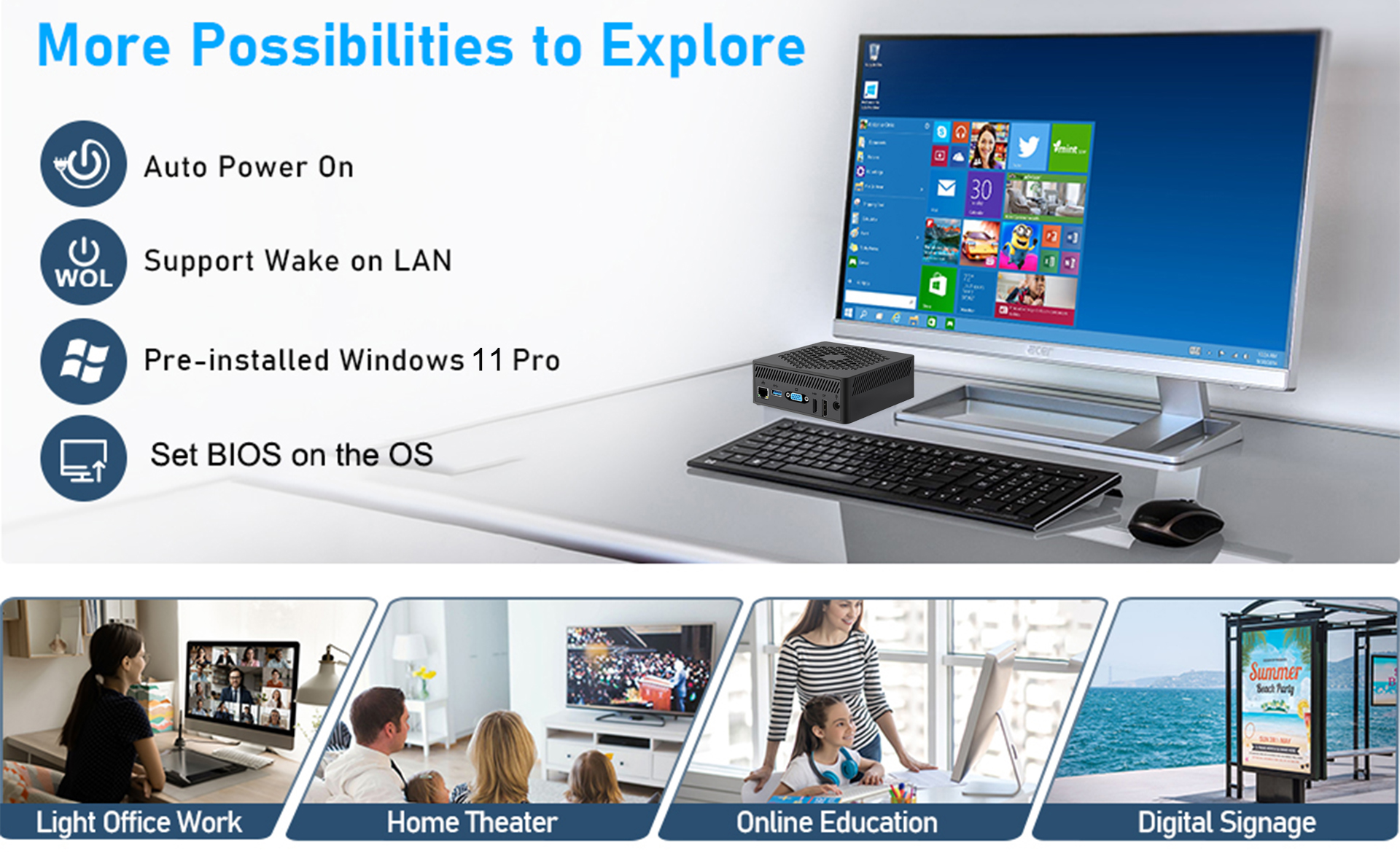 Common FAQ
Q1. Can AC8 run Ubantu OS?
yes, AC8 support and can run ubantu OS, but Newsmay dont have the driver for ubantu OS, only windows drivers
Q2. How to reach us if you need technical services?
a. you can reach us easily by email: info@newsmaytech.com, we will reply you soon
b. if for drivers, please visit newsmaytech.com/download/ac8
Q3. can AC8 support 2.5"HDD/SSD and NVME SSD?
AC8 not support 2.5"HDD/SSD, only support the m.2 2280 SATA SSD
Q4. customer customization available?
we support OEM service and main business is TO B OEM business, our product with lobal brand sold to many EU countries.
the customization package/manual, boot logo/brand/model, OS info, logo print on device...and so on
Q5. is AC8 support 4G SIM network?
AC8 not support 4G/5G SIM function, only support WiFi or LAN network
Q6. Can AC8 support Wake on Lan, PXE, Auto power function?
AC8 support this feature and can setting in BIOS.
please visit newsmaytech.com/download/AC8/AC8 BIOS setting to download the BIOS setting SOP