Higher & Longer Monitor Arms
Higher for More Height Adjustments
Compared with other dual monitor desk mounts, HUANUO HNDS7 gas spring arms can reach up to 22" in height(from center to the desktop), providing more height adjustments. Freely adjust your monitors to the height you want.
Longer Arm for Deeper Desktop
HUANUO HNDS7 dual monitor arms extend up to 27.5". Perfect for deeper desktop.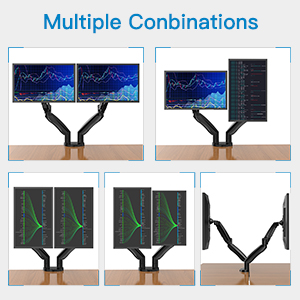 Multiple Screen Combinations
The articulating arms allow monitors to tilt, swivel and rotate. Easily find a proper screen orientation and combination as per your need. 2 landscape screens; 1 landscape & 1 portrait; monitors in opposite orientations etc. are available.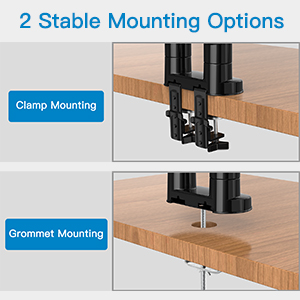 Sturdy & Stable Stand
The solid construction, enlarged base and double clamp design increase the stability. Support both clamp and grommet installations. Both clamp and grommet work for desk thickness from 0.78" to 3.54" . Choose the proper one for your needs.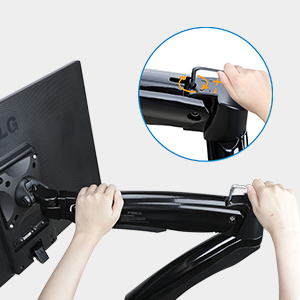 Easy Gas Spring Adjustment
To set your monitor to stay at any height you need, please adjust the gas spring to proper tension first. Turn the screw counter-clockwise when your monitor falls down and turn clockwise to reduce tension when your monitor goes up.
| | |
| --- | --- |
| HUANUO | Brand |
| 17.323 x 11.772 x 5.945 inches | Package dimensions |
| 17.174 pounds | Item weight |
| Black | Color |