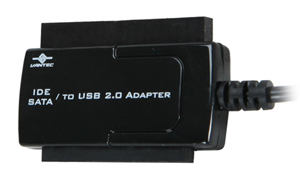 SATA/ IDE to USB 2.0 Adapter
2.5"/3.5"/5.25" SATA/IDE to USB 2.0 Adapter
The Vantec SATA/ IDE to USB 2.0 Adapter gives you the flexibility of connecting almost any type of drive to your computer* via an available USB port. It supports SATA hard drive** and 2.5"/3.5"/5.25" IDE drive.
The USB 2.0 port delivers fast data transfer rates of up to 480Mbs. It's also backwards compatible with USB 1.1 (up to 12 Mbps).
Installation is simple and quick. It supports plug & play and hot-swapping. Hard dive can be easily hot-swapped to your system without the need of rebooting. The included external power adapter allows you to power your drives outside your system, giving you the ability to quickly add or swap between drives without opening your case.
*It works with Windows PC or Mac with available USB 2.0 port or USB 1.1 port
**It supports HDD capacity up to 8TB.
Package Content