>

Operating Systems
Operating Systems - Showing 1 - 12 of 12 Products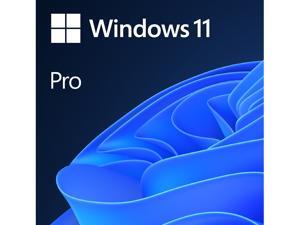 Free Shipping
Disclaimer: Use of this OEM System Builder Channel software is subject to the terms of the Microsoft OEM System Builder License. This software is intended for pre-installation on a new personal computer for resale. This OEM System Builder Channel software requires the assembler to provide end user support for the Windows software and cannot be transferred to another computer once it is installed. To acquire Windows software with support provided by Microsoft please see our full package "Retail" product offerings.
Operating Systems: Windows 11
Bit Version: 64-bit
Version: Pro
System Requirements: Processor: 1 gigahertz (GHz) or faster with 2 or more cores on a compatible 64-bit processor or System on a Chip (SoC). RAM: 4 gigabyte (GB). Storage: 64 GB or larger storage device Note: See below under "More information on storage space...
Model #: FQC-10529
Item #: 9B-32-350-882
Return Policy: Consumable Product Return Policy
Four Tips for Windows® 7 and 8 Operating Systems
Introduction
Modern computer operating systems such as Windows® 8.1 or 7 have many useful features that are not widely known but can enhance usability and convenience. In addition, new releases and updates to Windows operating systems have continually added or improved features. Below, NeweggBusiness has picked some useful tips for the latest Windows operating systems.
Arrange Windows Left and Right (Windows 7 and 8 Operating Systems)
One trick professionals can use to take advantage of widescreen LCD / LED monitors is to arrange two windows side by side. For instance, this allows a user to view two different spreadsheets or webpages on one monitor. On Windows 7 and 8 operating systems, pressing the Windows key and either the left or right arrows arranges the active window to either the left or right side of the screen.
Adding Filters to List View (Windows 7 and 8 Operating Systems)
For sorting through folders that contain many files and sub-folders, icon view can be inefficient. List view on the other hand, is ideal for browsing those types of folders. However, list view sometimes lacks filters that users may find useful. To add filters to a folder in list view, right click on the filter bay and you can see a list of available filters. If the filter you require is not in the right-click menu, select More to see all filters.
Boot to Desktop (Windows 8.1 Operating System)
Many users find Windows 8's Metro user interface better suited for tablets than desktops or laptops. Unfortunately, the Windows 8 operating system starts in Metro UI mode by default. With the Windows 8.1 operating system update however, users now have the ability to boot into desktop mode.
You can enable boot to desktop in Windows 8.1 by right-clicking on the taskbar and clicking on Properties. Go to the Navigation tab and check the box next to, "Go to the desktop instead of Start when I sign in." The next time you sign into the operating system, you will be in desktop mode.
Quickly Lock Windows (Windows 7 and 8 Operating Systems)
The keyboard shortcut to quickly lock your computer is Windows + L. Useful for when you need to quickly leave your computer lock out unauthorized access to the operating system.