>

External CD / DVD / Blu-Ray Drives
External CD / DVD / Blu-Ray Drives - Showing 1 - 24 of 2247 Products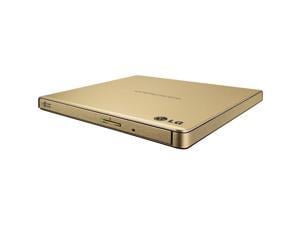 Type: Slim DVD Burner
Panel Color: Gold
DVD-ROM Access Time: 160ms
CD-ROM Access Time: 140ms
Cache: 768KB
DVD+R: 8X
DVD+RW: 8X
DVD-R: 8X
Model #: GP65NG60
Item #: 9B-27-136-278
Return Policy: Standard Return Policy
Considerations for Purchasing External DVD Drives & Burners
Introduction
An external DVD drive is a device that gives computers the ability to read optical media without requiring the installation of an internal optical drive. External DVD drives can be useful for computers such as Ultrabooks™, which are not often equipped with internal optical drives. To help you shop for an external DVD drive, NeweggBusiness offers some buying considerations below.
Interface
Similar to internal DVD drives, external DVD drives also require data and power connections. The most commonly used type of data connector for external DVD drives is USB, with a few also supporting eSATA™. Power connectors though, are typically proprietary and not universally interchangeable. However, some external DVD drives integrate power delivery into their data connection, which allows them to be slightly more travel-friendly and cause less cable clutter.
Drive Speed
The speed at which an optical drive can read and write data is rated as a multiple of X, which can vary depending on the optical format. For CD, DVD, and Blu-ray discs, X is 153.6 KBps, 1.35 MBps, and 4.39 MBps respectively. So an external DVD drive with a read speed of 16X can read data on a disc at a rate of 16 × 1.35 MBps or 21.6 MBps.
Dual Layer Support
A dual layer disc is a special type of optical disc that has two physical data layers, which significantly increases storage capacity. For instance, a dual layer DVD can support 8.5 GB of storage instead of the standard 4.7 GB of single layer DVDs. Many current internal and external DVD drives are capable of reading dual layer discs, but not all have the ability to burn them.
Disc Labeling
Some external DVD burners support a technology known as LightScribe, which allows a drive to produce laser-etched graphics on specially coated discs. It can be used to create more visually appealing discs featuring custom images and text. In order to take advantage of an external DVD drive's disc labeling feature, you will need to purchase compatible discs.